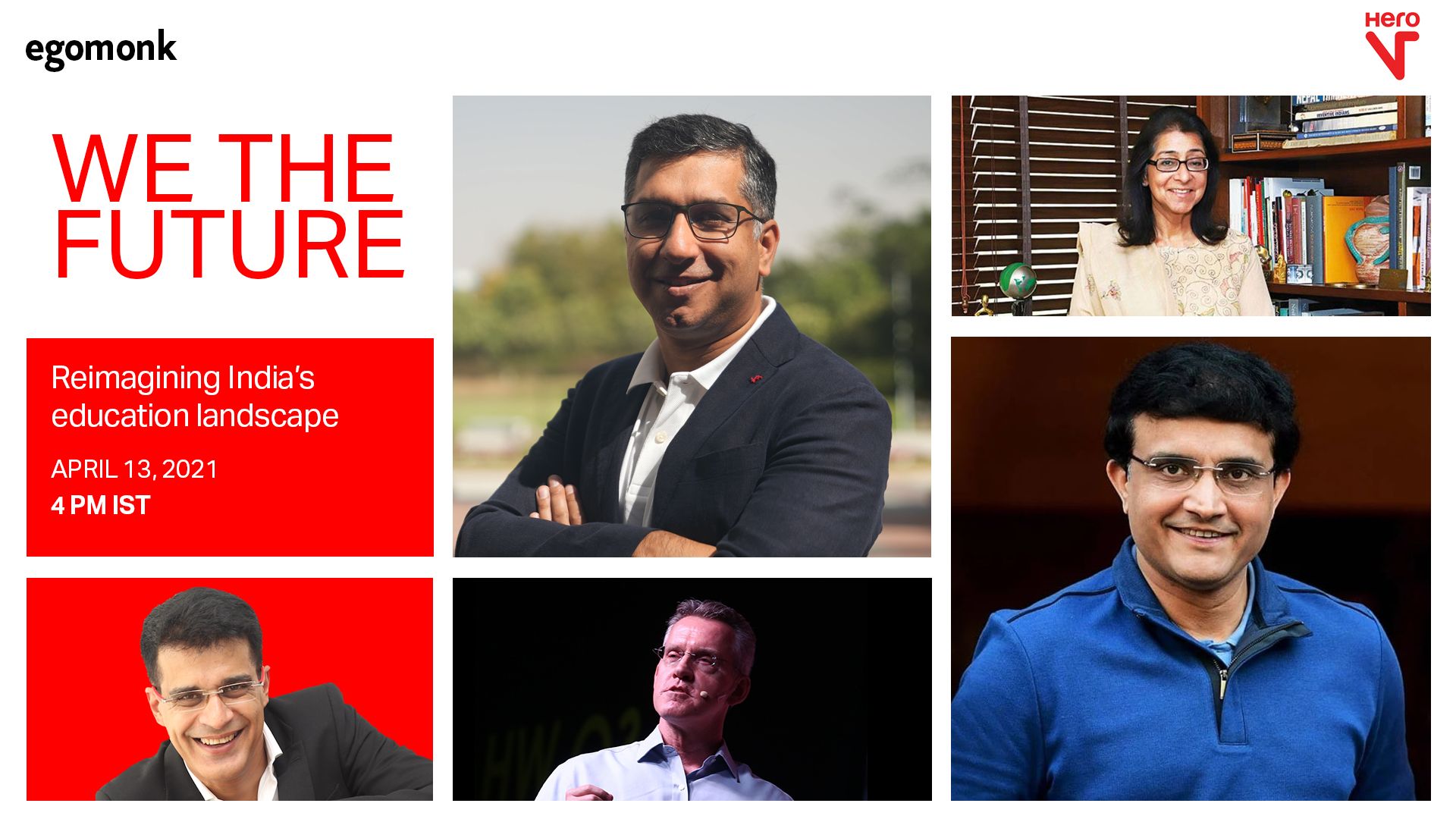 What happens when we all win?
How do we realize a billion ambitions?
When will things fall into place?

India's future belongs to all of us.
This is both a promise and a prophecy and we are excited to partner with the Hero Group to bring to life an idea whose time has come. We The Future is a digital intervention to unpack the state of education in India today and chart out a new exciting pathway for transformative change.
We'll be joined by titans of industry and giants from other walks of life to weave a new narrative that includes all of us. Exponential thinking, non-linear trajectories, imperfect choices and a whole lot more goes into creating win-win solutions, and these conversations will reveal a blueprint for the future of skills and work.
We The Future will be streaming on April 13 at 4 PM IST on our Facebook, LinkedIn, YouTube, and Twitter channels. Register below to be a part of the new tomorrow!
Our Speakers
Akshay Munjal
Akshay Munjal is the Founder and Executive Director of BML Munjal University. Apart from overseeing operations involving its 1600 students, he has raised funds for the University, formed 7 academic partnerships and established over 150 global corporate tie-ups. After pursuing his undergraduate degree in Management from the University of Bradford in the UK, Akshay acquired an MBA from Pepperdine University in the US before joining the Hero Group in 2006. He is also an active member of the Rotary Society of India and has volunteered with the United Nations.
Sourav Ganguly
Sourav Ganguly is an Indian cricketing legend currently serving as the elected President of the Board of Cricket Control of India. After becoming captain of the Indian cricket team in 2000, he famously led the team to victory in 21 out of 49 test matches, including a record 12 overseas victories. Sourav retired from cricket in 2012 and has been actively working towards developing the skillsets of young talent in the country. He has been felicitated with several awards for his outstanding contributions in the field of sports, including the Arjuna Award, CEAT Indian Captain of the Year, Padma Shri, and the Rammohan Roy Award.
Naina Lal Kidwai
Naina Lal Kidwai is a widely recognized Indian banker, Chartered Accountant and the former Country Head of HSBC India. She founded the India Sanitation Coalition and has been recognized as one of India's most renowned women business leaders. In 2004, The Wall Street Journal included her in the list of the world's top 50 businesswomen. Apart from being the first Indian woman to head a foreign bank in India, Naina was the first Indian woman to get an MBA from Harvard in 1982 and serve as President of the Federation of Indian Chambers of Commerce and Industry. Currently, she is serving as the Chairperson of HSBC Asset Management and Max Financial Services. Naina is also the recipient of the distinguished Padma Shri award for her contributions to trade and industry.
Anshu Mor
Anshu Mor is a popular stand-up comedian who quit his job as the Head of Xbox Business at Microsoft India at the age of 44. Anshu spent 11 years in various Enterprise Sales roles such as Business Dev, Sales, and Strategic Alliances at Microsoft. However, within the first year of his on-stage career, Anshu was recognised as one of the rising stars of stand-up comedy by The Times of India. He has performed over 475 live shows in India and abroad, released 5 highly appreciated stand-up comedy solo specials and garnered over 300,000 subscribers on his YouTube channel, racking up more than 30 million views.
Steve Leonard
Steve Leonard is the CEO of Singularity University and previously founded and ran SGInnovate, a private limited company wholly owned by the Singapore Government that has invested in 90 deep tech startups since 2016. Prior to working for the Singapore Government on nation-building priorities, Steve served in executive leadership positions in the technology industry for almost thirty years. Steve is a regular contributor at events hosted by the United Nations Development Program, United Nations Economic and Social Commission for Asia and the Pacific, Forbes, CNBC, Bloomberg, BBC, and The Economist.
Our Agenda
SESSION
SPEAKERS
The Future Belongs to Us
Akshay Munjal, The Hero Group
Learning From the Greats
Sourav Ganguly, BCCI
Akshay Munjal, The Hero Group
Thriving in Chaos
Naina Lal Kidwai, HSBC AMC
Building Exponential Careers
Akshay Munjal, The Hero Group
Steve Leonard, Singularity University
Playing to Win
Anshu Mor, Standup Comedian
Connect with Hero V on Facebook, Instagram, LinkedIn and Twitter.
---
We are building bridges to a better future, life, and planet. If you want to realize that potential with us then email us today!​