A Data-Led View on the Employment of Women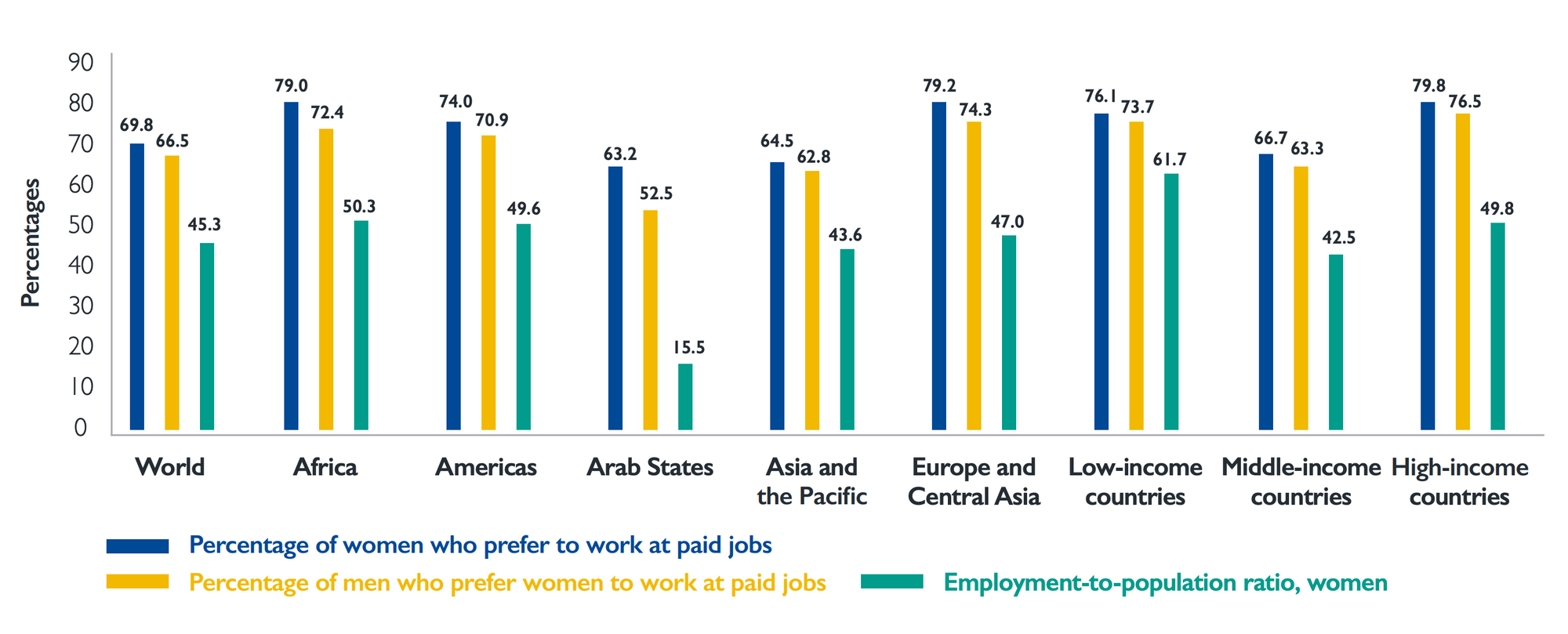 Being an equal opportunity employer should come naturally to the world's most innovative and progressive organizations but unfortunately this is still not the case in 2020. Our ability to generate meaningful employment and provide purposeful jobs has also proven challenging with the gender employment gap shrinking by only 2% in the past 27 years. Even in 2018 there were 700 million fewer women in the global workforce than men. And this troubling trend is deepening for the next generation because 69.1% of all youth currently neither in employment nor in education or training are women. Surprisingly, 41.5% of women with a university degree are either unemployed or outside the labour force, while only 17.2% of men find themselves in the same situation.

These gender issues aren't isolated occurrences at the start of a professional career and they repeatedly manifest themselves at critical junctures for women such as performance appraisals, childbirth, executive-level promotion, etc. This is precisely why only 27.1% of managers and leaders all over the world are women. Yet women managers have been consistently found to be younger than their male counterparts. In low-income countries, they are, on average, 6.1 years younger than men, 1.3 years in middle-income countries and 1.7 years in high-income countries.
Adopting a Systems Approach to Gender Equality
The complex network of challenges faced by women at work can be deconstructed into 4 primary issues which when resolved should materially alter the trajectory of women within any organization. They are the automated elimination of the gender wage gap, baselining and removal of the motherhood penalties, support for reducing unpaid care work and increasing the representation of women on boards.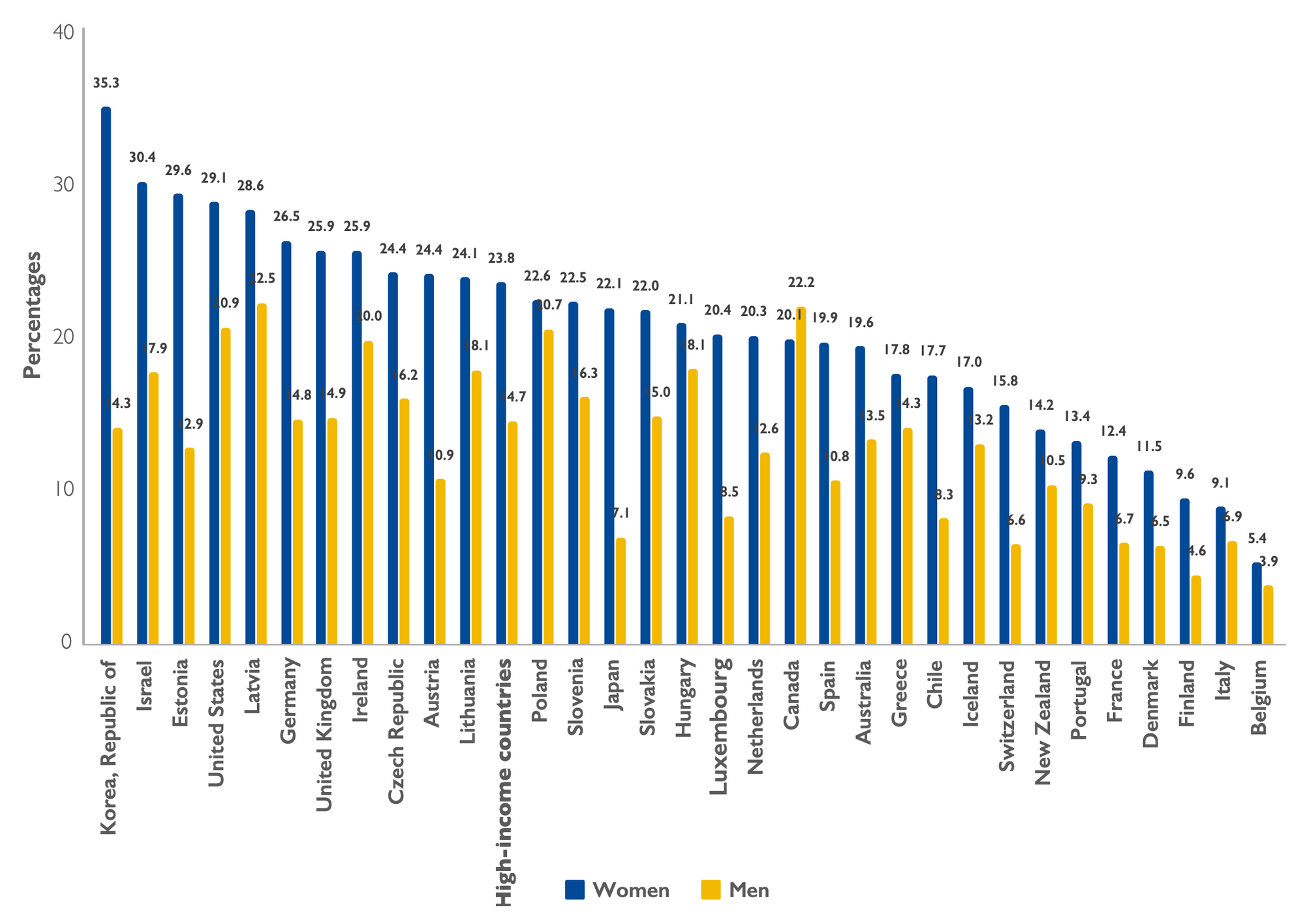 Gender Wage Gap
The global gender wage gap is still hovering at 18.8% and ranges from 12.6% in low-income countries to 20.9% in upper middle-income countries. Although 173 nations have ratified ILO Convention No. 100 which guarantees equal renumeration for work of equal value by men and women, only 86 of them have passed laws to that effect. This issue has been a stubbornly persistent one since growth in daily wage work and part-time employment by women has exposed them to the double penalty of weaker pricing power and underemployment.

The Motherhood Penalties
Motherhood is simultaneously a personal highlight and professional concern for many women all around the world because of 3 specific penalties it attracts: employment, wage and leadership.
Motherhood Employment Penalty - A 2015 estimate over 51 countries revealed that 45.8% of mothers of young children were in employment compared to 53.2% of women without children under six years old. This disparity indicated the existence of an employment penalty which has increased by 38.4% from 2005 to 2015.

Motherhood Wage Penalty - Motherhood is seen as a proxy for reduced efficiency, increased caregiving, systemic shift in priorities, etc. which results in a wage penalty that can persist across a woman's working life. However, the status of fatherhood has been associated with a wage increment in several markets such as South Korea where fathers command a 26% premium over non-fathers.

Motherhood Leadership Penalty - Mothers have the lowest participation rates in managerial and leadership positions with only 25.1% of managers with children under the age of six being women as compared to 74.9% of men. The strongest barrier to women's leadership is family responsibilities followed by gender stereotypes and masculine corporate culture which has internalized the belief: "think manager–think man".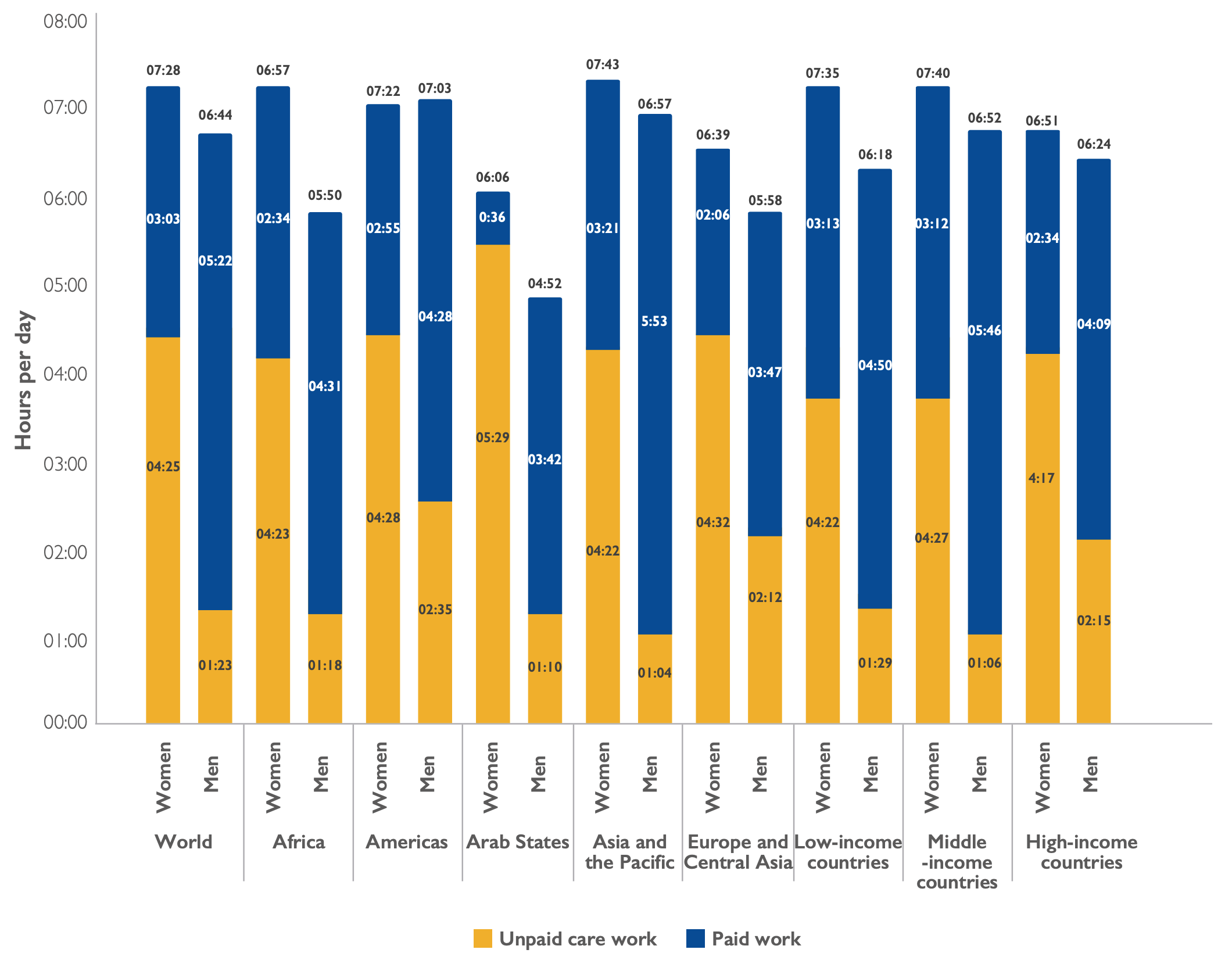 Unpaid Care Work
Unpaid care work has always been the primary reason for the lack of workforce participation by women. 606 million working age women currently perform caregiving and housework on a full-time basis compared to 41 million men. In the period between 1997 and 2012 the net time reallocation that occurred between men and women was only 23 minutes per day. At this pace, the gender gap in time spent in unpaid care work will not be closed until 2228 i.e. 209 years.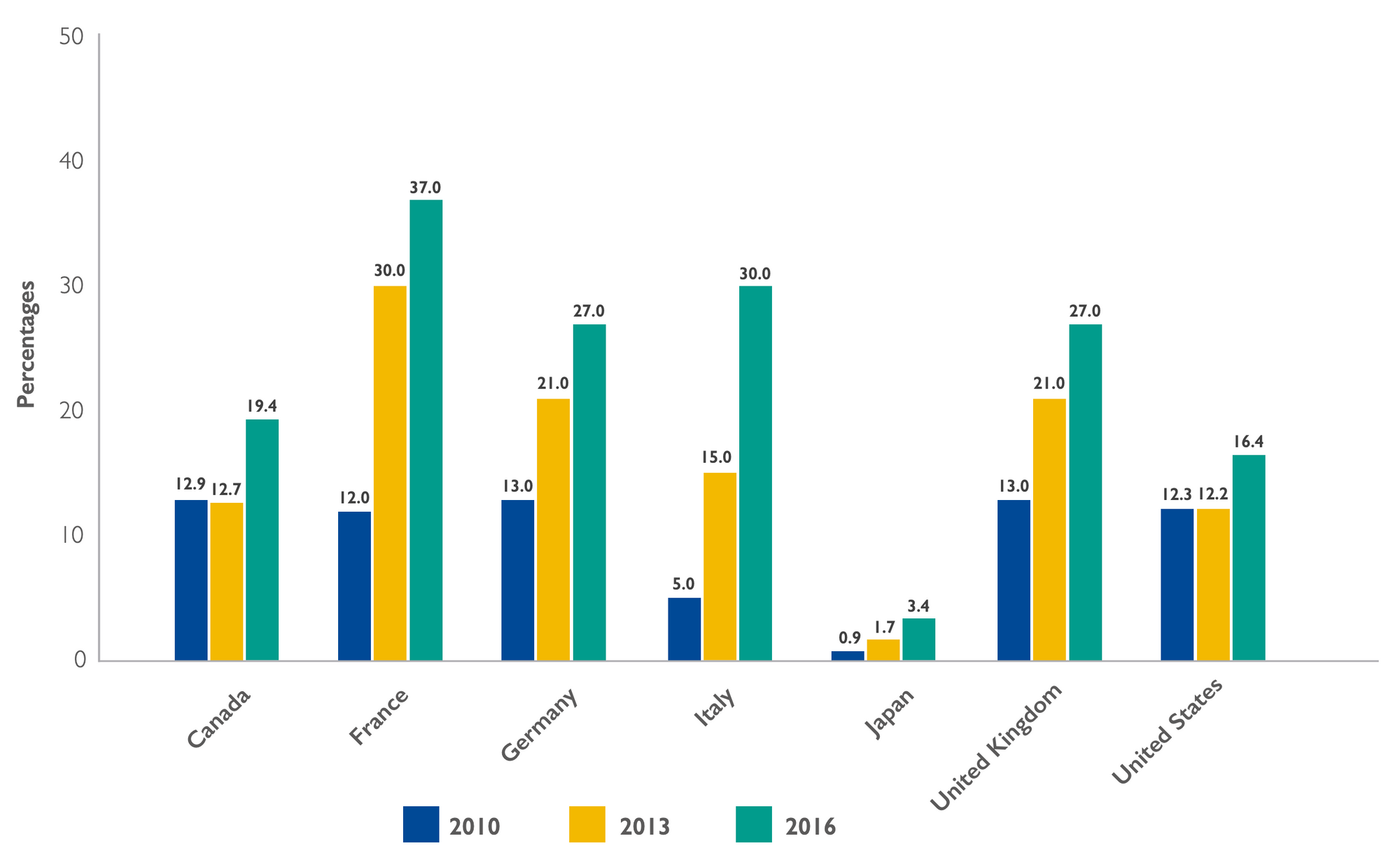 Women Representation on Boards
The representation of women on boards has long been considered an intelligent choice and informal requirement since the inclusion of even a single woman has been associated with an 8-13 basis point higher return on assets. The primary risks of tokenism and weak influence on strategy and governance have remained despite voluntary targets and local laws mandating minimum representation standards. Although an organic improvement in this trend has been observed across the G7 a considerable amount of time and effort must still be invested to ensure women have a seat at the table everywhere.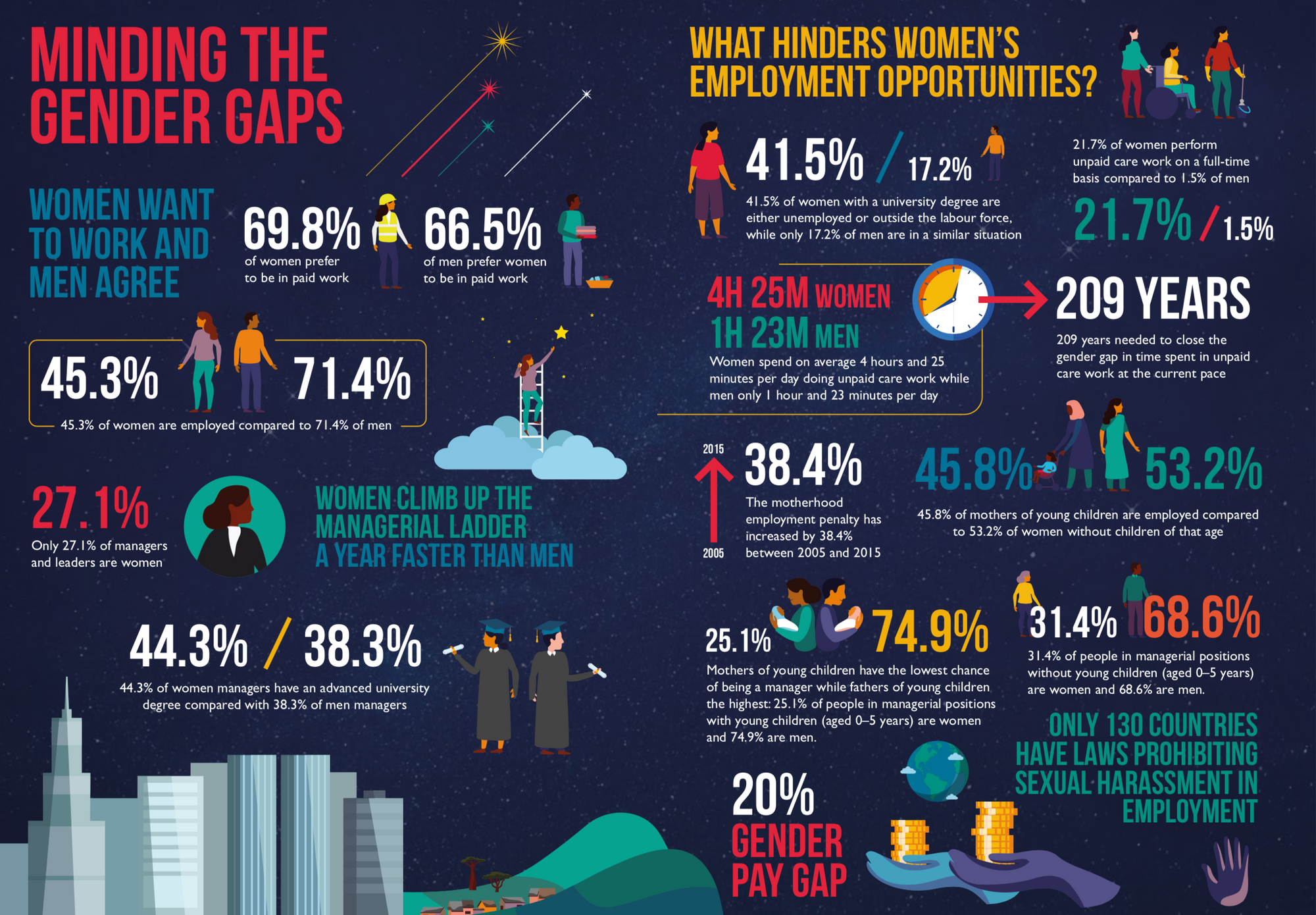 Mechanisms to Unlock Support for Women
As the framework of fundamental gender issues has been identified, a variety of mechanisms can now be deployed to support women and transition organizations towards generating true equal opportunity employment.
Ban salary history inquiries
Employers should refrain from asking applicants about their prior salaries. And if an applicant were to voluntarily disclose their prior pay, employers should not use the information to set current salaries.
Note: California has implemented this as a labor law (AB168) since 2017.

Establish a public-facing transparent salary calculator
A career progression framework must be designed for every function within the organization and then mapped onto a compensation scheme that lists out the variables affecting base salaries.
Note: Buffer has implemented a public salary calculator since 2012.

Audit performance compensation
Map high-value targets and strategic business outcomes to a variable compensation scheme that has been internally audited by a gender diverse committee prior to communication and payouts.

Conduct an annual pay equity analysis and publish the results
The pay system at any organization should be free from gender, racial, ethnic and other biases so it becomes critical to test for pay differences across the entire workforce on an annual basis. Particular attention must be paid to determine if a fatherhood premium or motherhood wage penalty exists. Any irregularities should then be normalized and resolved via automated transactions. These results can then be anonymized and shared as part of existing reporting requirements.
Note: Google has been performing an annual pay equity check since 2016 and has released its approach at re:work.

Reserve at least 30% of board seats for women
Several nations have mandated the reservation of a large number of board seats for women to support gender diversity and better governance. This replaces the token reservation of 1 woman director owing to global abuse and a lack of critical mass.
Note: Norway has reserved 40% of all board seats for women since 2008.

Recruit at least 1 woman director with no promoter linkages
Circumvention strategies to meet gender quotas have always involved recruitment of women who are related to the promoters or have close proximity to them. This must be prevented by the appointment of an independent director.

Recruit at least 1 woman director from within the organization
A critique of gender quotas has been that they do not directly raise the status of women at lower rungs of the organization. The requirement of an internal woman candidate to be named as director should accelerate internal leadership development efforts.

Provide at least 30 days of free on-site child care every year
Young mothers face the difficult task of returning to work, delivering great performance, providing care to their child and doing housework for several years. Hence, free day care facilities at work for infants to 5 year olds should become the norm.
Note: Goldman Sachs provides 40 days of free on-site child care at its New York and Jersey City locations as part of its infant transition program.

Allow employees to develop their own  flexible work proposal
Telecommuting, condensed workweeks, customized working hours, job sharing and flexible vacation time are all valid work options. Employees should be free to experiment with each of them and then develop an optimized schedule using the combination that works best for them.
Note: FlexJobs uses a proposal form to allow its employees to communicate their specific work style and scheduling preferences.

Provide at least 6 months of paid leave to each new parent
Raising a child is a shared responsibility and so each parent must exercise their leave period at some point during the birth year. This policy should include non-birthing parents and be augmented with an adoption allowance.
Note: Netflix allows birth and adoptive parents of any gender to take up to a year off at full pay following the birth or adoption of their child.

Allocate discretionary funding to the Women's Employee Resource Group
There is a dire need to have internal budgets that respond to women's priorities, as assessed by women themselves. Male sponsorship is a critical piece of the strategy to deliver equal opportunity.

Prepare a disclosure report to examine women in leadership roles
The examination of the existence of a motherhood leadership penalty within the organization is paramount. If found to be statistically relevant the establishment of voluntary targets for women employment at different levels and support or mentorship networks would be required.
---
We are building bridges to a better future, life, and planet. If you want to realize that potential with us then email us today!​