Openness may not completely disarm prejudice, but it's a good place to start. - Jason Collins
QueerTWENTY is our flagship initiative to recognize and celebrate inspiring queer Indians across all walks of life, so they serve as role models for the next generation. We are building on the efforts of our inaugural cohort by including the diaspora and are hopeful that these linkages will help accelerate transformative change in India. This year's cohort of leaders, activists, and creators is a broader and deeper representation of the richness of the LGBTQ spectrum. This is by design and is a manifestation of months of editorial effort. We hope these individual stories of courage and wonder help others in their journeys of self-discovery and actualization.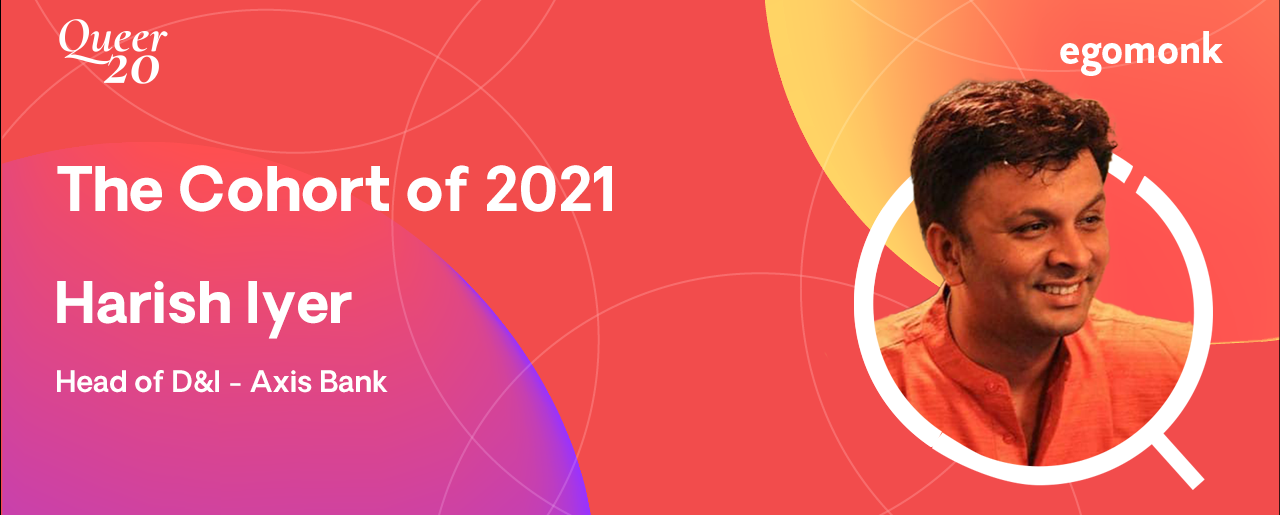 Harish Iyer - Axis Bank
Harish Iyer has been advocating for LGBTQ rights for more than a decade now. His experiences as a member of the LGBTQ community and a child sex abuse survivor give him the emotional strength and empathy needed to become a force of nature. Harish wants people to acknowledge the power imbalances at play and to do their best. Currently, the Diversity, Equity & Inclusion Head at Axis Bank, Harish, assures us that making mistakes is not something we should be afraid of and believes in the inevitability of rising from the ashes.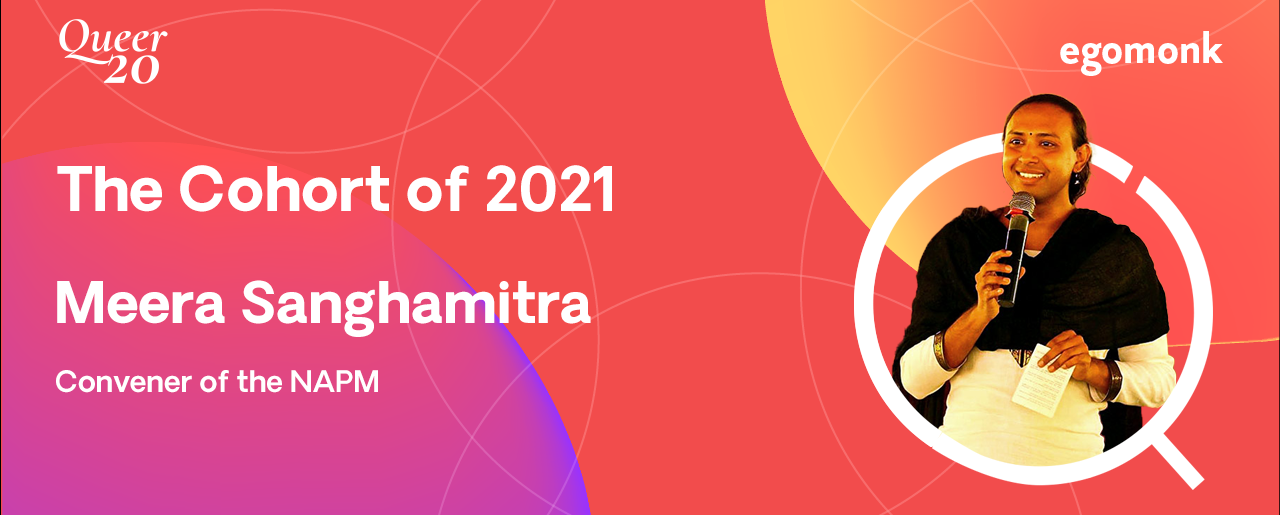 Meera Sanghamitra - National Alliance of People's Movements
Meera Sanghamitra, Convener of the National Alliance of People's Movements, has been using her experience as a lawyer for effective change at the grassroots. Deeply cognizant of the privileges that the educated and upper economic classes hold, Meera has dedicated her life to ensuring that the rights of the vulnerable and marginalized are not eroded. An Ambedkarite activist, she envisions a future where every individual can live harmoniously, regardless of sexual orientation and gender identity.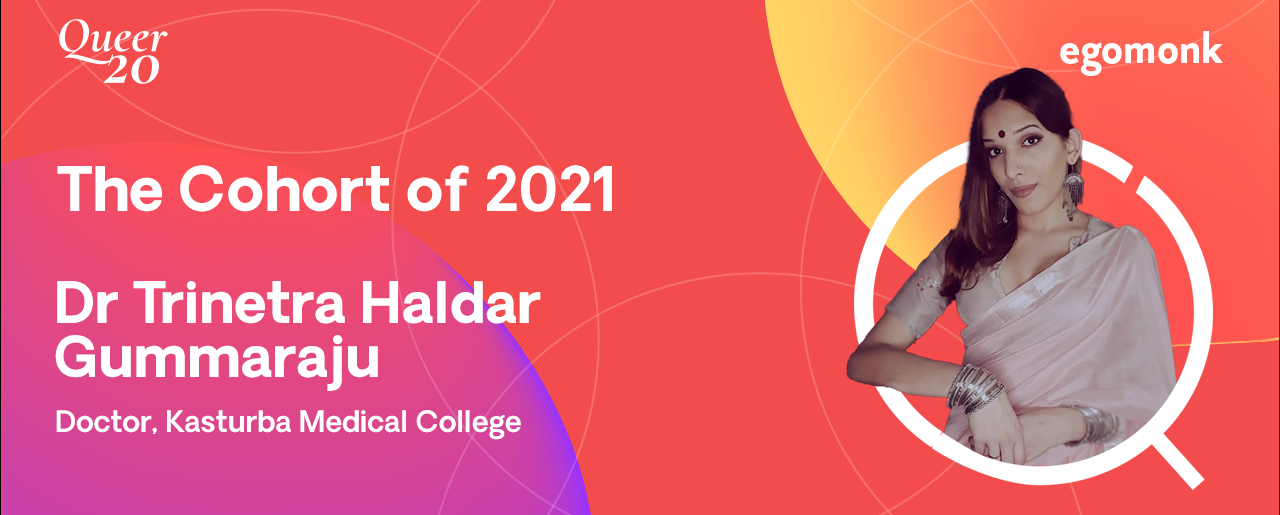 Dr. Trinetra Haldar - Doctor
Trinetra Haldar Gummaraju has been fighting to reduce the information asymmetry that the transgender community is subjected to. From documenting her transition journey on youtube to using her platform as a social media influencer to call out discriminatory practices, Trinetra is dedicated to normalizing conversations surrounding trans issues. She is hoping to pressure the government to change its policies and demand greater accountability from educational institutions and the media.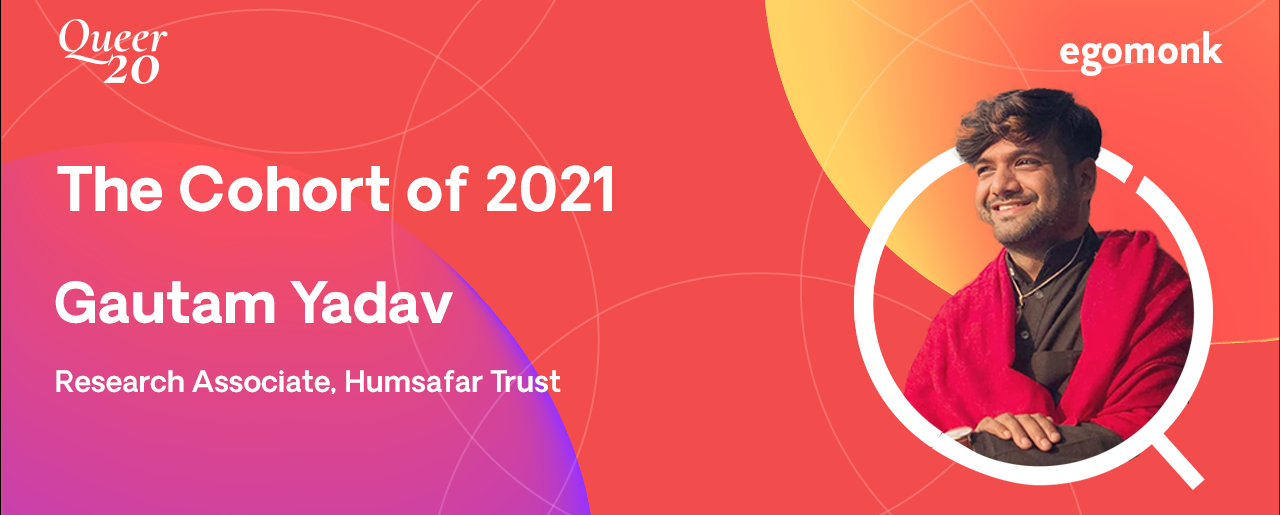 Gautam Yadav - Humsafar Trust
Gautam Yadav always wanted to be an actor. However, today, he is a Research Associate at Humsafar Trust who has decided to dedicate his whole life to LGBTQ activism. Gautam's diagnosis of HIV at the age of 18 led him to be a social activist against the spread of HIV. His work and commitment have resulted in membership and participation at the UNAIDS Youth Advisory Forum from the Asia Pacific, Youth Voices Count, Youth Lead Bangkok, International HIV/AIDS Alliance, and more. Gautam is always ready to help anyone from the community without any judgment.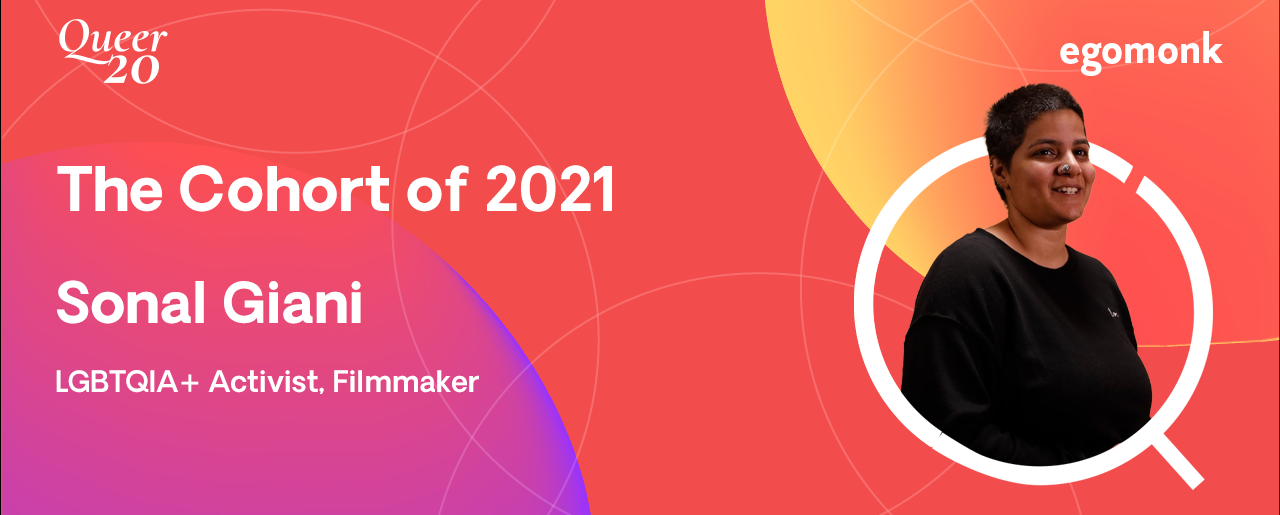 Sonal Giani - Activist & Filmmaker
Sonal Giani has been awarded many accolades for her interventions across grassroots, corporates, and law enforcement agencies. From directing movies to starring in them, Sonal is an example of queer individuals reclaiming their voices. She also enthusiastically supports the driven and high-energy next-generation leaders of the queer movement, especially those from the Indian heartland.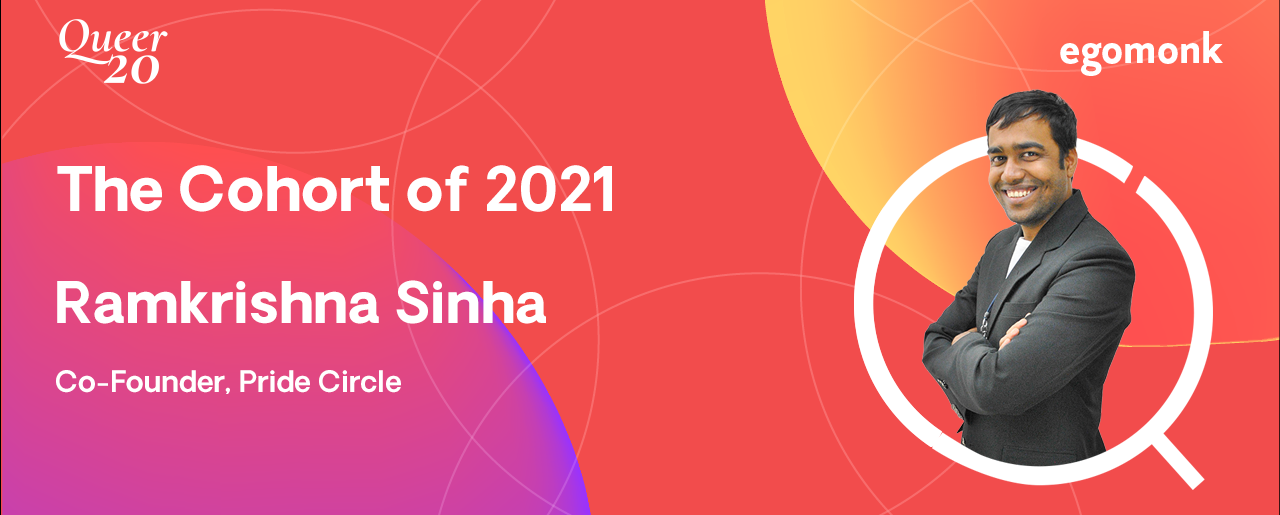 Ramkrishna Sinha - Pride Circle
Ramkrishna Sinha, Co-founder of Pride Circle, is committed to fostering inclusion with a multi-pronged approach such as mentorship programs, job fairs, and enabling upskilling for the LGBTQ community.  He firmly believes that diversity and inclusion does not end at hiring people from the fringes, but it only begins when companies take actions to retain them for the long term.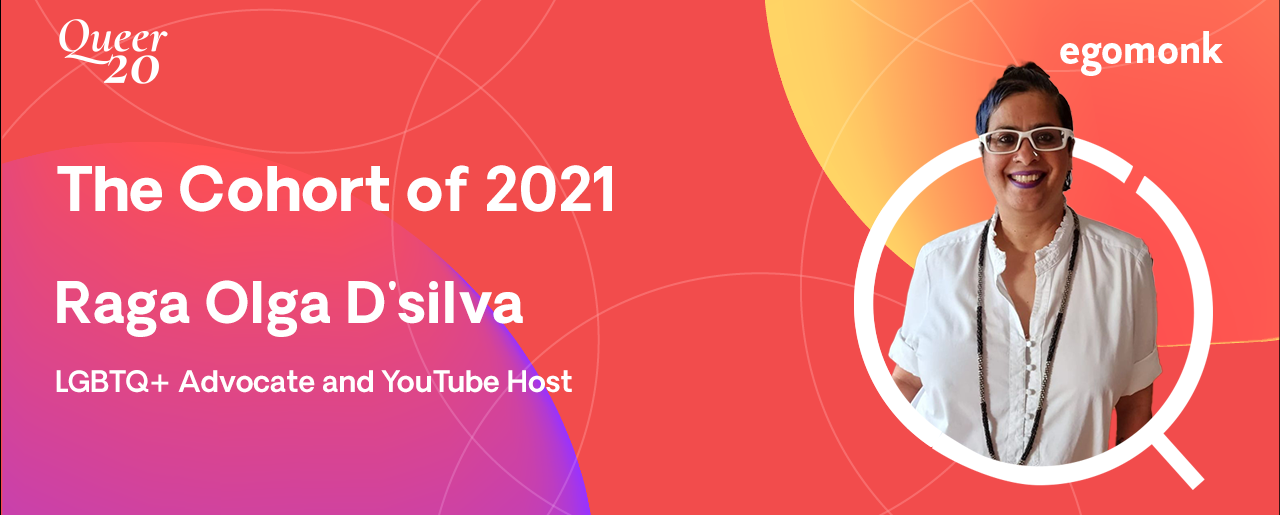 Raga Olga D'silva - LGBT Advocate & YouTube Host
Raga Olga D'silva is redefining standards for Indian women by being unapologetically vocal about her story. Raga is a mother of two children, a YouTube host, an author, and an LGBTQ activist. She and her fiancé Nicola are determined to keep chipping away at the stigma by normalizing ad celebrating coming out stories, especially in the Indian context. Raga's immense courage and love of what she has built a life around are heartwarming to hear.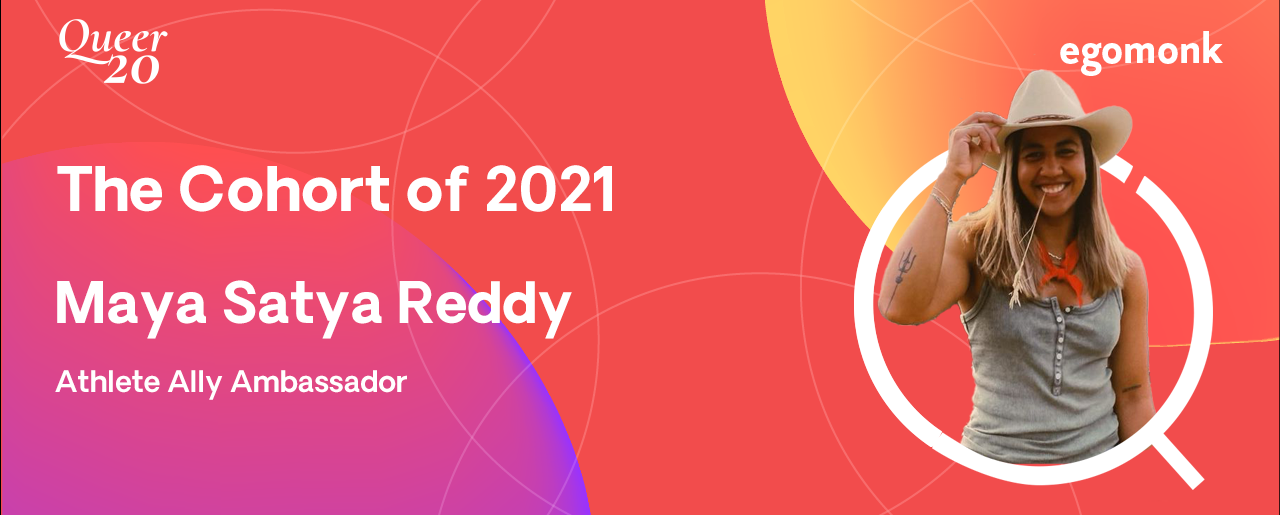 Maya Satya Reddy - Athlete Ally Ambassador
Maya Satya Reddy is a queer athlete who was a three-time NCAA All-American and a strong competitor on the Symetra Tour. However, she is recognized today as an LGBTQ activist who channels all her energy for queer inclusion in sports. As an Asian immigrant, Maya had to constantly battle hostility. She founded the Queer Asian Club to increase the representation of queer Asians in mainstream media and also serves as the ambassador of the Athlete Ally group. Despite having grown up in xenophobic and homophobic environments, Maya has an infectious optimism that outweighs all her complaints.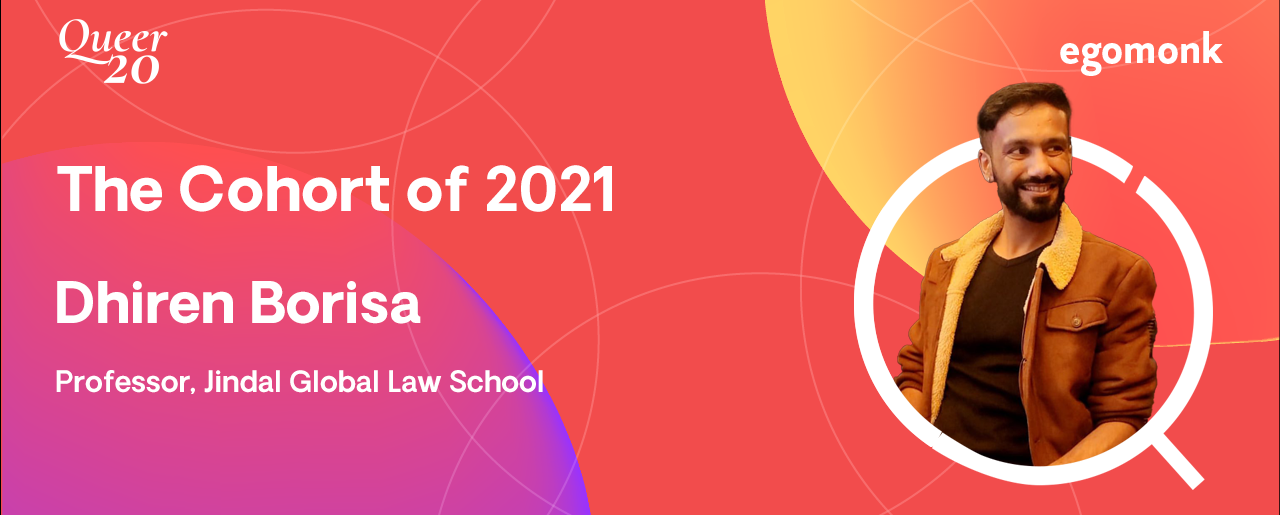 Dr. Dhiren Borisa - Professor
Dr. Dhiren Borisa, a Professor at Jindal Global University, values their role as an educator in cultivating the next generation of critical thinkers. Dhiren's grit has led them to cross mountains and push on even when they felt there was no going forward. They are determined to use their voice and privilege to amplify marginalized voices who are suffering because of the silence of the upper castes and stronger economic classes. They are the first person in an Indian university to have completed their doctorate in the "geographies of sexualities."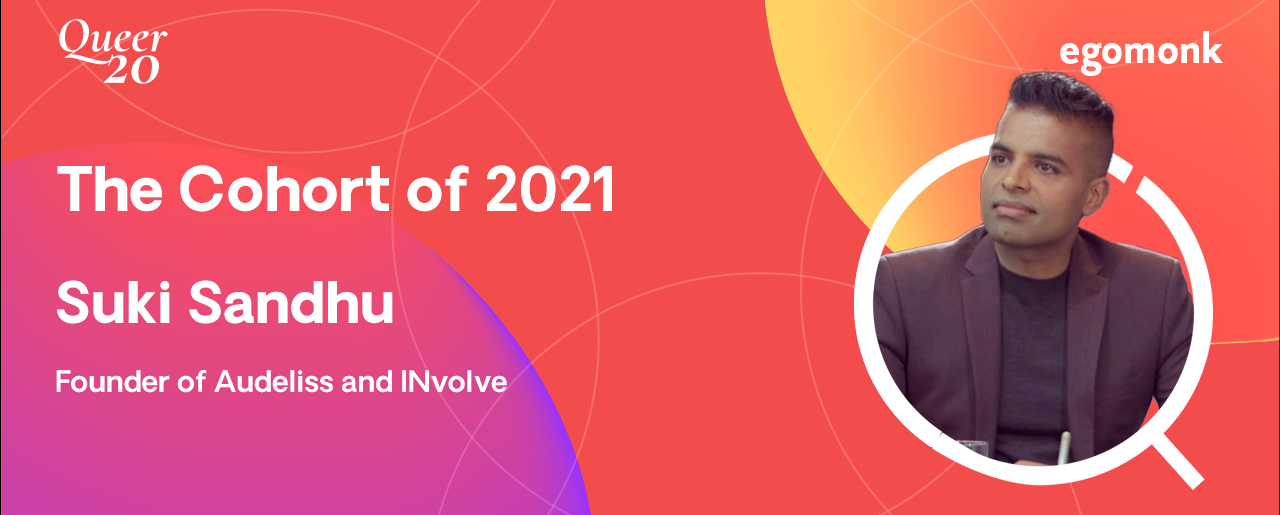 Suki Sandhu - Audeliss and INvolve
Suki Sandhu, Founder and CEO of Audeliss and INVolve, is a global corporate leader who firmly believes in the immense power that inclusive and diverse companies hold. He is a staunch advocate of safe spaces that can increase profitability, innovation, and growth. Honored with an OBE, Suki is committed to uplifting the LGBTQ community through his work and philanthropy.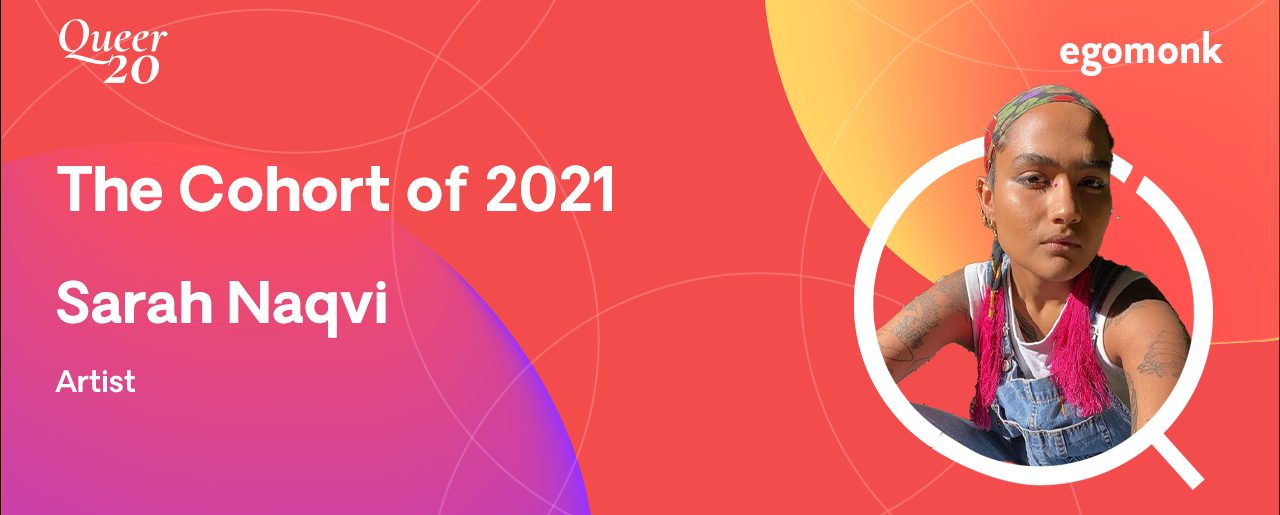 Sarah Naqvi - Artist
Sarah Naqvi has been a long-standing vocal advocate for the rights of the marginalized. Using art as a medium of dissent, Sarah has crafted narratives on topics that are considered taboo in Indian society. They demand that everyone from the diaspora to our governing institutions listen instead of overpowering the voices of the marginalized. Sarah is also dedicated to shedding light on the often forgotten histories of queer feminist icons of minority ethnicities and religions.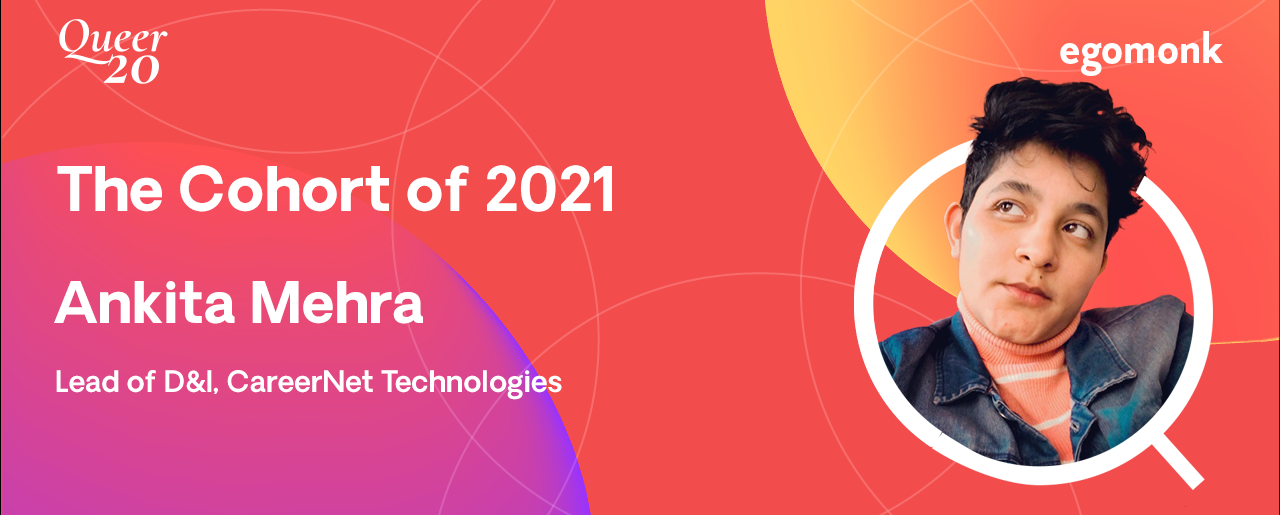 Ankita Mehra - CareerNet Technologies
Ankita Mehra has directly experienced the lack of community and awareness of LGBTQ+ issues in rural and semi-urban India. Currently working with CareerNet technologies, she creates professional, safe spaces where individuals can bring their authentic selves to work every day. Ankita has been driving sensitization and awareness campaigns at the grassroots. She believes interventions are required for parents of queer children to break the cycle of phobia and misinformation.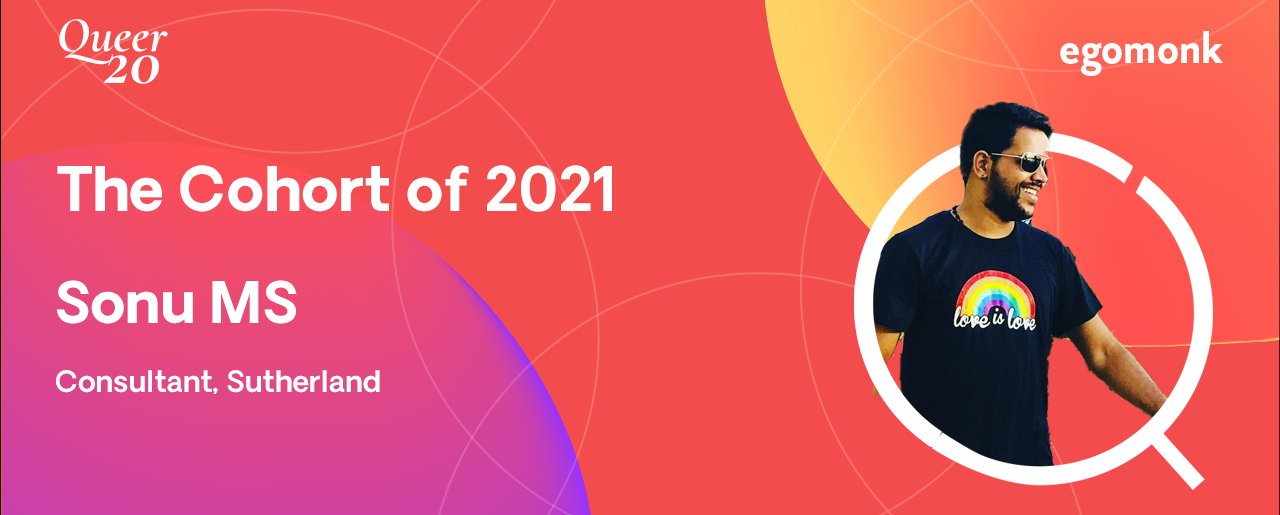 Sonu MS - Sutherland
Sonu MS, a Consultant with Sutherland, and his partner Nikesh have been fighting a battle with the Indian administration to get the rights that all heterosexual couples are automatically granted. They have a life together and want to be able to tell everyone they are legally married. They consider their efforts to be the essential things they can do for the empowerment of the community. However, their commitment and courage as the first couple in India to approach the Kerala High Court has spurred many other LGBTQ couples to come forward with their stories.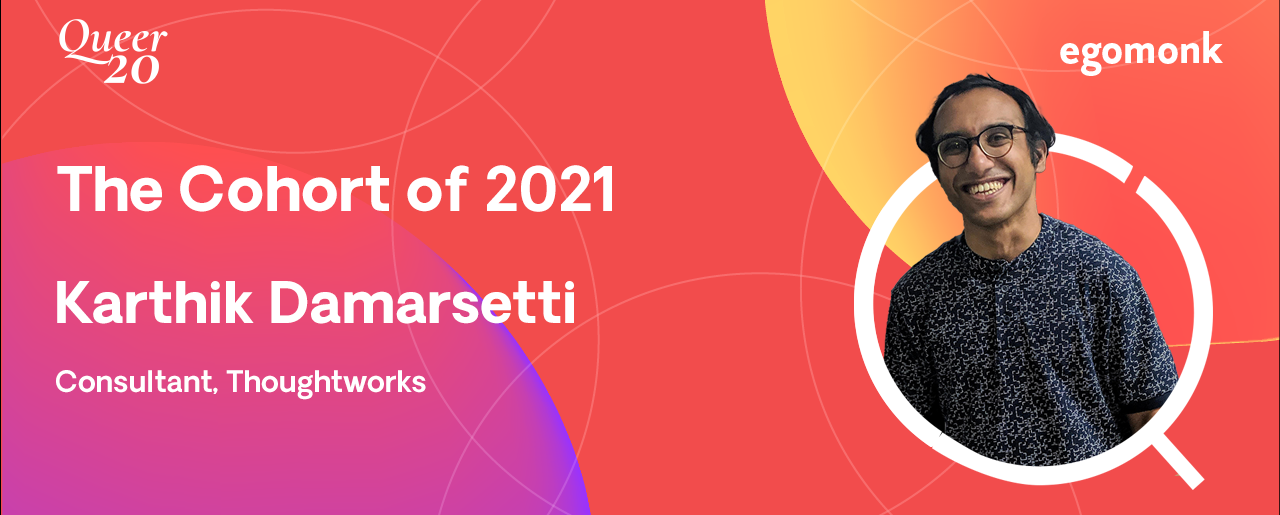 Karthik Damarsetti - Thoughtworks
Karthik Damarsetti is a young activist who works at Thoughtworks. They are diagnosed with spastic diplegia and believe that people should recognize that disability and gender can also occur in a spectrum. They are passionate about increasing LGBTQ representation in STEM fields. Karthik believes micro-level changes have the power to build up the community. They do not dream of becoming an icon and only wish to help people.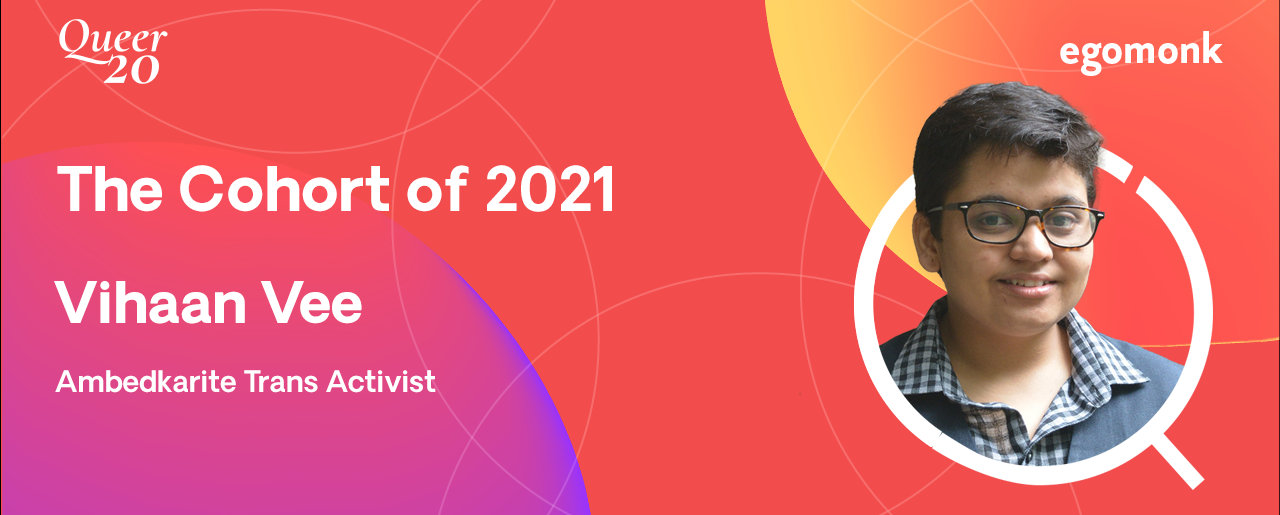 Vihan Vee - Trans Activist
Vihaan Vee has been a vocal advocate for trans rights and the rights of sex workers, but he is now also actively working towards climate preservation. He is very cognizant of how laws, mechanization, industrialization, and privatization have affected the communities on the fringes. Vihaan encourages others to be responsible allies and move beyond tokenism, especially regarding LGBTQ+ representation on media platforms.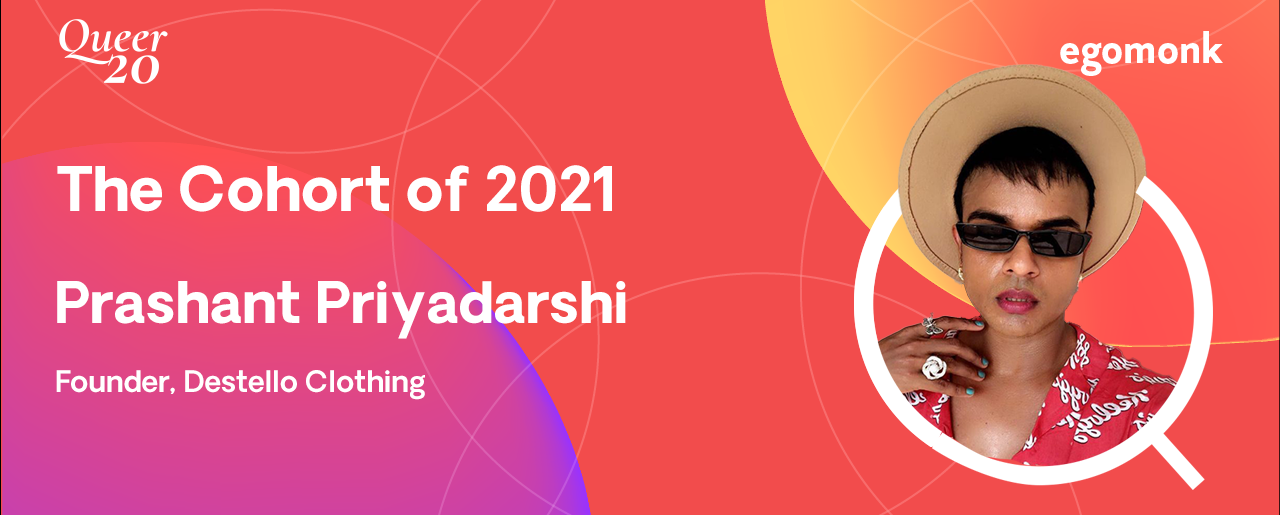 Prashant Priyadarshi - Destello Clothing
Prashant Priyadarshi is the Founder of Destello, a sustainable clothing brand, and hopes to positively impact consumerism by offering vegan, ethical, and minimal ecological footprint products to the market. An ethical entrepreneur, Prashant also has a drag alias Bahaar, who is the woman that Prashant couldn't be from birth. Passionate about drag, Prashant also encourages inclusive and safe spaces in their startup.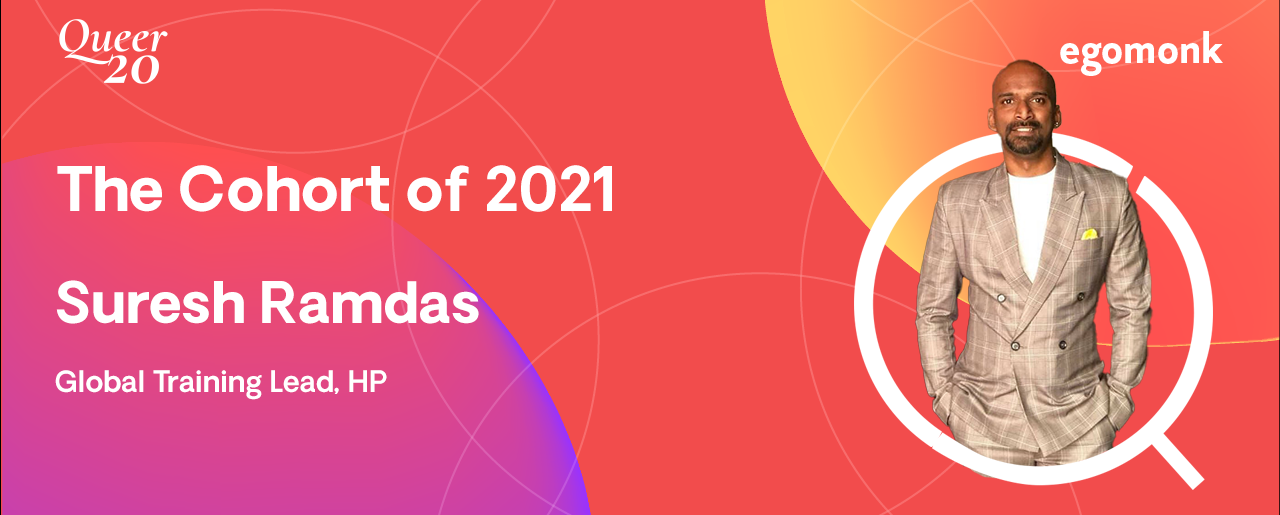 Suresh Ramdas - HP
Suresh Ramdas firmly believes that '"Indianising" the conversations around the LGBTQ community will help us build an inclusive culture. He questions why we always look up to the west! Suresh is a corporate leader who is genuinely dedicated to driving change for the LGBTQ community. This has earned him several accolades, including being featured in the OUTstanding 100 LGBT+ Future Leaders list and winning Mr. Gay India 2019.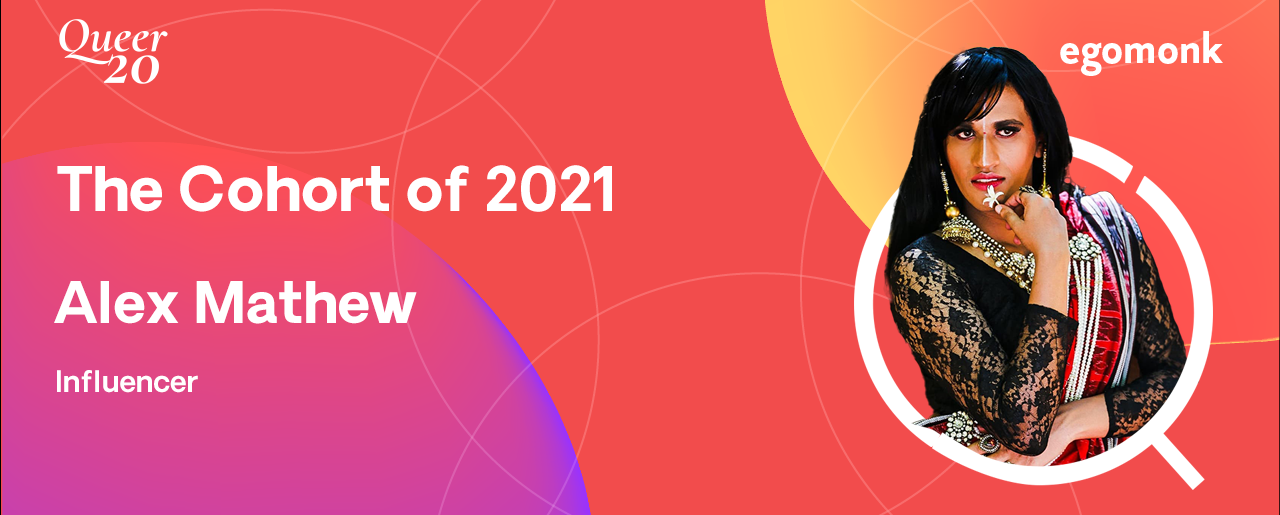 Alex Mathew - Influencer
Alex Mathew is a drag queen and a social media influencer who uses his platform to educate people about the LGBTQ community. He strongly believes his identity is incomplete without his drag persona, Maya. From Kathakali in Kerala to Jat Yatra in Bengal, he vouches that drag is not "something new" and has been here for ages. Alex is an artist who always chooses to lean into his identity and beat the odds stacked against him.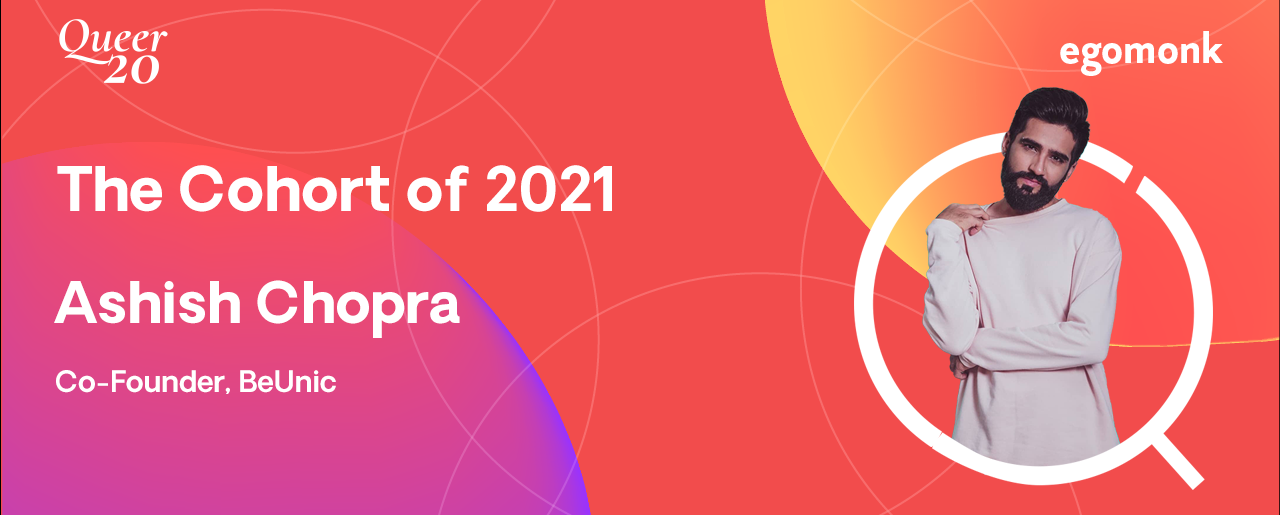 Ashish Chopra - BeUnic
Ashish Chopra aspires to be a queer role model and is committed to empowering LGBTQ entrepreneurs. He is the Co-founder of BeUnic, a queer-only e-commerce platform that helps such entrepreneurs get global reach to sell their products. Ashish was also the first runner-up of Mr. Gay India in 2018 and is someone who is vehemently against pinkwashing.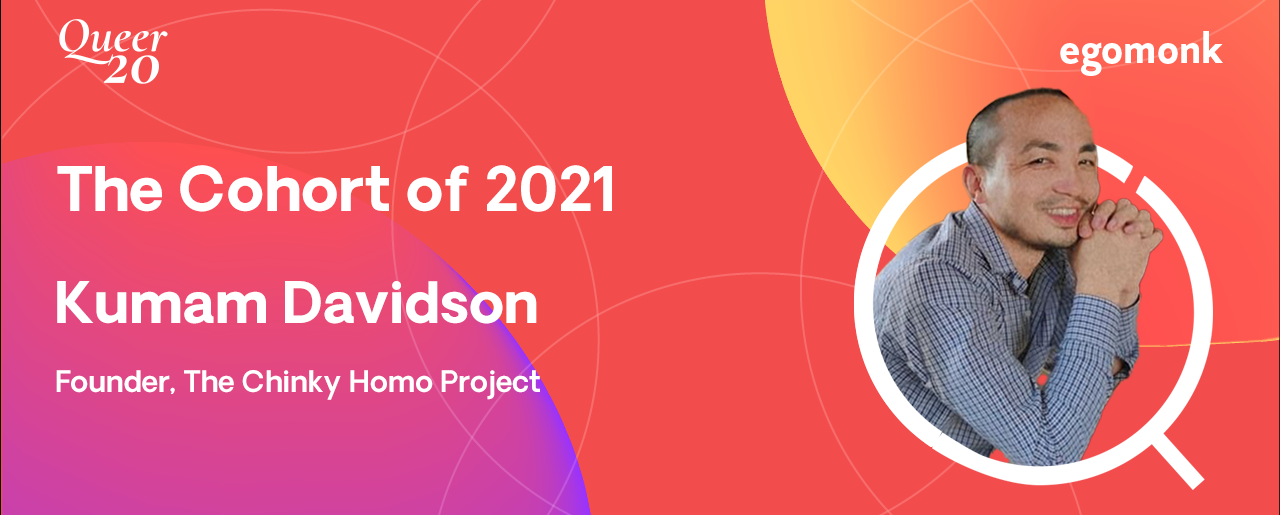 Kumam Davidson - The Chinky Homo Project
Kumam Davidson is challenging history by bringing to light the forgotten and invisibilized through his initiative - The Chinky Homo Project, a digital anthology for North-East India. As the Founder of Matai Society, Kumam has been attempting to empower and help communities that have borne the brunt of the pandemic. He is also playing a crucial role as an educator by ensuring the minds of tomorrow have a more inclusive worldview.
---
We are building bridges to a better future, life, and planet. If you want to realize that potential with us then email us today!​