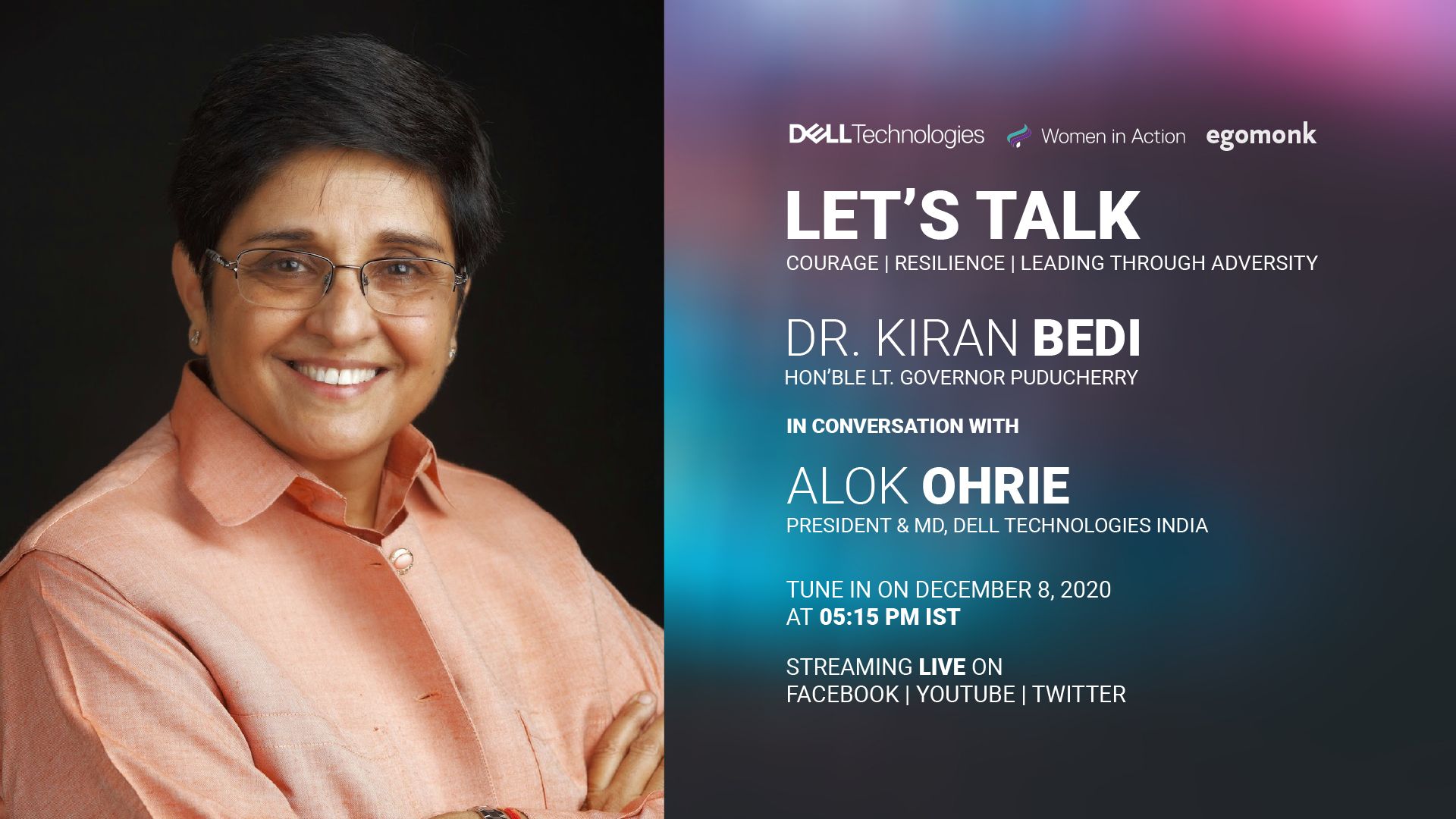 Our Agenda
This conversation will shine a spotlight on:
The changing landscape of education, employability and leadership for women in India.
The ways future women leaders can elevate their capabilities with grit and courage to thrive while facing adversity.
The role of technology in advancement of women in India.
The tie-ins with Dell's Progress Made Real Moonshot goals.
Our Speakers
Dr. Kiran Bedi has been India's first and highest woman ranking officer having joined the Indian Police Service in 1972. Her expertise includes more than four decades of Public Administration, Creative and Reformative Policing and Prison Management. She is currently serving as the Lieutenant Governor of Puducherry, a Union Territory of India. She worked with the United Nations in New York as the Police Advisor to the Secretary-General and in the Department of Peace Keeping Operations. Dr. Bedi is the founder of two NGOs, Navjyoti and India Vision Foundation, which reach out to thousands of underserved children, women, and men in the areas of education, vocational skills, environment, counseling, and health care to the urban and rural poor, including prisoners and policemen's children. She has been in the vanguard of Police and Prison Reforms. Dr. Bedi is a recipient of the prestigious Ramon Magsaysay Award (also called the Asian Peace Nobel Prize) and several other national and international decorations. At Puducherry, her work in collaborative governance, citizen participation and youth engagement have been hallmarks in transforming the Raj Nivas to a People's Nivas. Her Mission Water Rich Puducherry and Mission Green - Swacch Puducherry were important catalysts in administration. At the Office of the Lieutenant Governor, Dr. Bedi continues to break stereotypes by transforming the Raj Nivas from a conventional institution to one of active governance.
Alok Ohrie leads Dell Technologies India and is responsible for Sales, Business Strategy and Development, Operations, Marketing, Manufacturing and Government Engagements. Alok is a visionary with a keen understanding of technology and an accomplished business leader with a proven track record of managing businesses, people, customers and partner relationships. A technology evangelist at heart, what sets him apart is his deep understanding of changing customer needs and a wealth of experience in delivering solutions, across Asia Pacific markets. Alok is a member of several industry bodies, including ASSOCHAM's National Council of Electronics Manufacturing, where he holds the Chairman's role; a member of the Executive Council of NASSCOM and part of the Advisory Board of innovative startups in the space of education. Alok is committed towards shaping a promising future for the youth of India and is a part of Dell's Global Giving Council and actively supports programs that help educate women.
Let's Talk will stream exclusively on our Facebook, YouTube, and Twitter channels. Please register below to be reminded.
---
We are building bridges to a better future, life, and planet. If you want to realize that potential with us then email us today!​