Technology is at the heart of human progress and must be used to tackle global problems at scale. It's on us to advance the health, education, and economic opportunity for the communities we live and work in.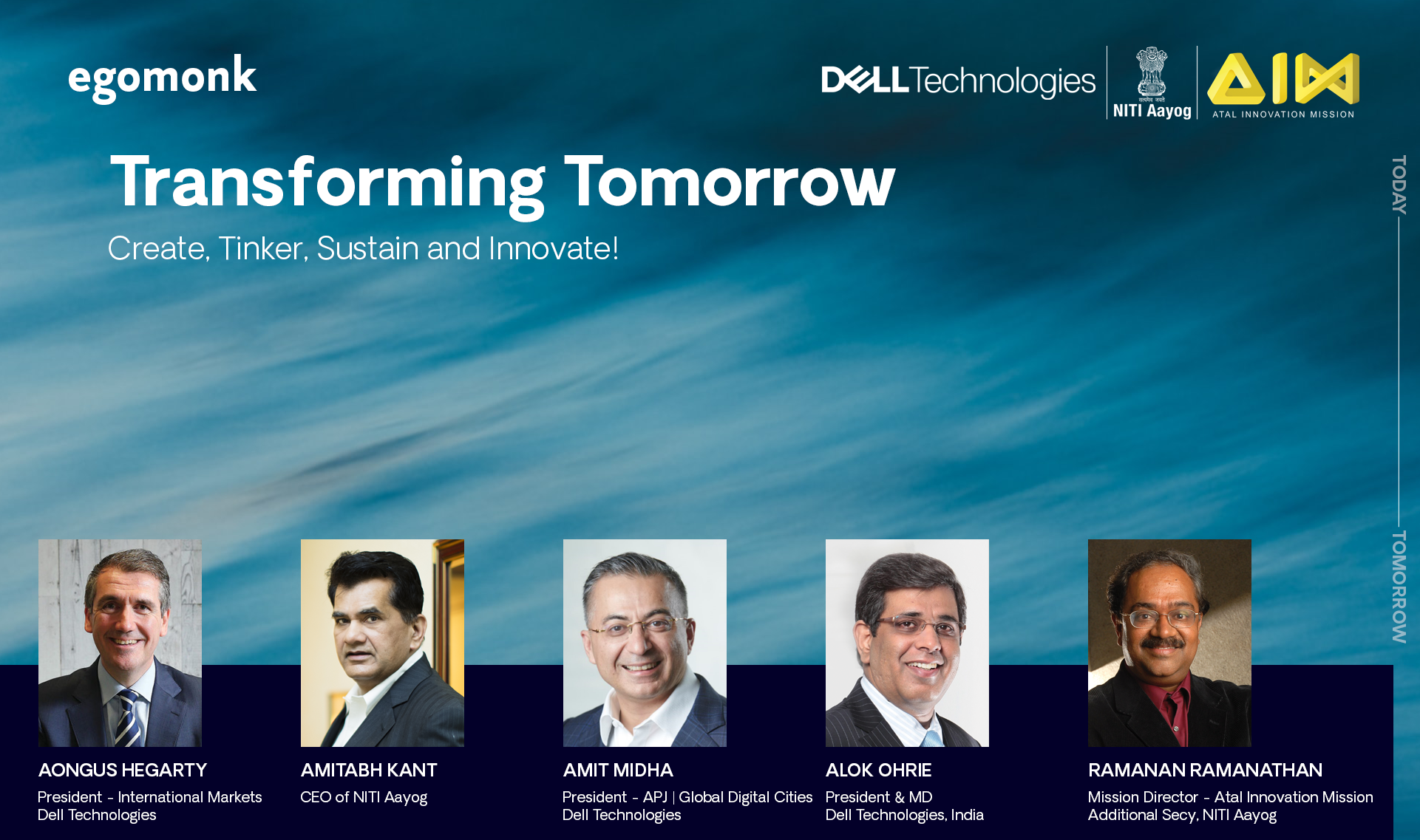 Our Agenda
This conversation will shine a spotlight on:
Nurturing the spirit of innovation in India.
Transforming the entrepreneurial landscape: Initiatives taken by Dell Technologies in partnership with NITI Aayog to encourage culture of entrepreneurial innovation.
Launch of SheCodes Innovation Program: Encouraging and empowering girls to innovate in STEM.
Our Speakers
Aongus Hegarty serves as President of Dell Technologies for International Markets - an organization spanning more than 170 countries encompassing Europe, Middle East, Africa, Asia-Pacific, Greater China, and Latin & South America. He has overall responsibility for business and strategy across these global regions, leading a team of over 50,000 sales, solutions and services professionals enabling customers to transform their business for the next data decade. Aongus has over three decades of experience in technology and is a twenty-year veteran of Dell Technologies, having held several President, VP & GM roles across the business. Aongus previously held senior general management, operations, manufacturing and engineering leadership positions with Modus Media, RR Donnelley and Digital Equipment Corporation. Aongus is a respected commentator on innovation, leadership, digital transformation, sustainability, and diverse & inclusive workforces.
Amitabh Kant is presently CEO of National Institution for Transforming India (NITI). He is a member of the Indian Administrative Service, IAS (Kerala Cadre: 1980 batch). He is the author of Branding India - An Incredible Story. Mr. Kant has been a key driver of the "Make in India", Startup India, "Incredible India" and God's Own Country" initiatives that positioned India and Kerala State as leading manufacturing and tourism destinations. These campaigns have won several international awards and embraced a host of activities – infrastructure development, product enhancement, private-public partnership and positioning and branding based on extensive market research. Mr. Kant also conceptualized the "Atithi Devo Bhavah" – "Guest is God" campaign to train Taxi Drivers, Guides, immigration officials and make them stake holders in the tourism development process. Mr. Amitabh Kant was also the National Project Director of the Rural Tourism Project of UNDP which made a paradigm shift in spreading tourism to Indian villages which had core-competency in handicrafts, handloom and culture.
Amit Midha, President, Asia Pacific & Japan and Global Digital Cities, is a highly respected and acclaimed business leader in the industry and within Dell. Having worked in US, APJ & China, he has a view to global macro-economic issues while dealing with complex regional operations. Amit has also been recognized as a visionary, a thought leader with strong views on emerging technologies, spearheading one of the most important business initiatives at Dell Technologies - Global Digital Cities. Amit is currently serving on the Board of Directors of the US-India Business Council and is a member of the Global Future Council on Cities and Urbanization, that serves as a brain trust for the World Economic Forum. Amit has also been invited to join the high level, multi-stakeholder WEF-Regional Action Group, ASEAN/APAC region comprising of ministers, private sector players, international banks & UN bodies, to form a pan-Asian view towards collaboration.
Alok Ohrie leads Dell Technologies India and is responsible for Sales, Business Strategy and Development, Operations, Marketing, Manufacturing and Government Engagements. Alok is a visionary with a keen understanding of technology and an accomplished business leader with a proven track record of managing businesses, people, customers and partner relationships. A technology evangelist at heart, what sets him apart is his deep understanding of changing customer needs and a wealth of experience in delivering solutions, across Asia Pacific markets. Alok is a member of several industry bodies, including ASSOCHAM's National Council of Electronics Manufacturing, where he holds the Chairman's role; a member of the Executive Council of NASSCOM and part of the Advisory Board of innovative startups in the space of education. Alok is committed towards shaping a promising future for the youth of India and is a part of Dell's Global Giving Council and actively supports programs that help educate women.
Ramanan Ramanathan is the Mission Director of the Atal Innovation Mission (AIM), NITI Aayog, Government of India. As the Mission Director of AIM, Ramanan has been instrumental in the launch and execution of several nationwide innovation and entrepreneurship initiatives resulting in establishing 10,000+ Atal Tinkering Labs with 5000+ operational and 102 Atal Incubation Centers nationwide. Ramanan is also the Senior Vice President of Tata Consultancy Services (TCS), and prior to this he was the Managing Director and Chief Executive Officer and a member of the Board of Directors of CMC Ltd, a subsidiary of TCS.
Transforming Tomorrow will stream exclusively on egomonk insights. Please register below to be reminded.
---
We are building bridges to a better future, life, and planet. If you want to realize that potential with us then email us today!​