We must pave the way for this country to become truly Aatmanirbhar Bharat. We really will make India – "Make in India" with the product developments of our young innovators.
NITI Aayog CEO Amitabh Kant said at our digital convening: Transferring Tomorrow. Dell has partnered with Atal Innovation Mission (AIM), an initiative led by the Government of India to promote a culture of innovation and entrepreneurship in the country.
"(The) Partnership with Dell Technologies is unique. It will transform India, transform technology in India, and make Indians far more innovative. Pathbreaking!" Mr. Kant exclaimed as he laid out how Dell's partnership with AIM will allow the use of state-of-the-art technology to make innovators out of school children through its tinkering labs.
Amit Midha, President - Asia-Pacific and Japan, Dell Technologies, pointed out that NITI Aayog's partnership with Dell helped set up several incubation centres, Atal Tinkering Labs, and over 1,000 Atal Innovation Centres in the country.
"We should remember ultimately, we are here to make a difference, create an outcome and make amazing things happen for the youth of today, for tomorrow," Mr. Midha said.
AIM had supported over 14,000 women in the last two years, and with the Women Entrepreneurship Platform, a first of its kind unified access portal, it brings together women from different parts of India to realize their entrepreneurial aspirations. Stressing on the need for developing technological and coding skills, Mr. Kant announced the launch of SheCodes.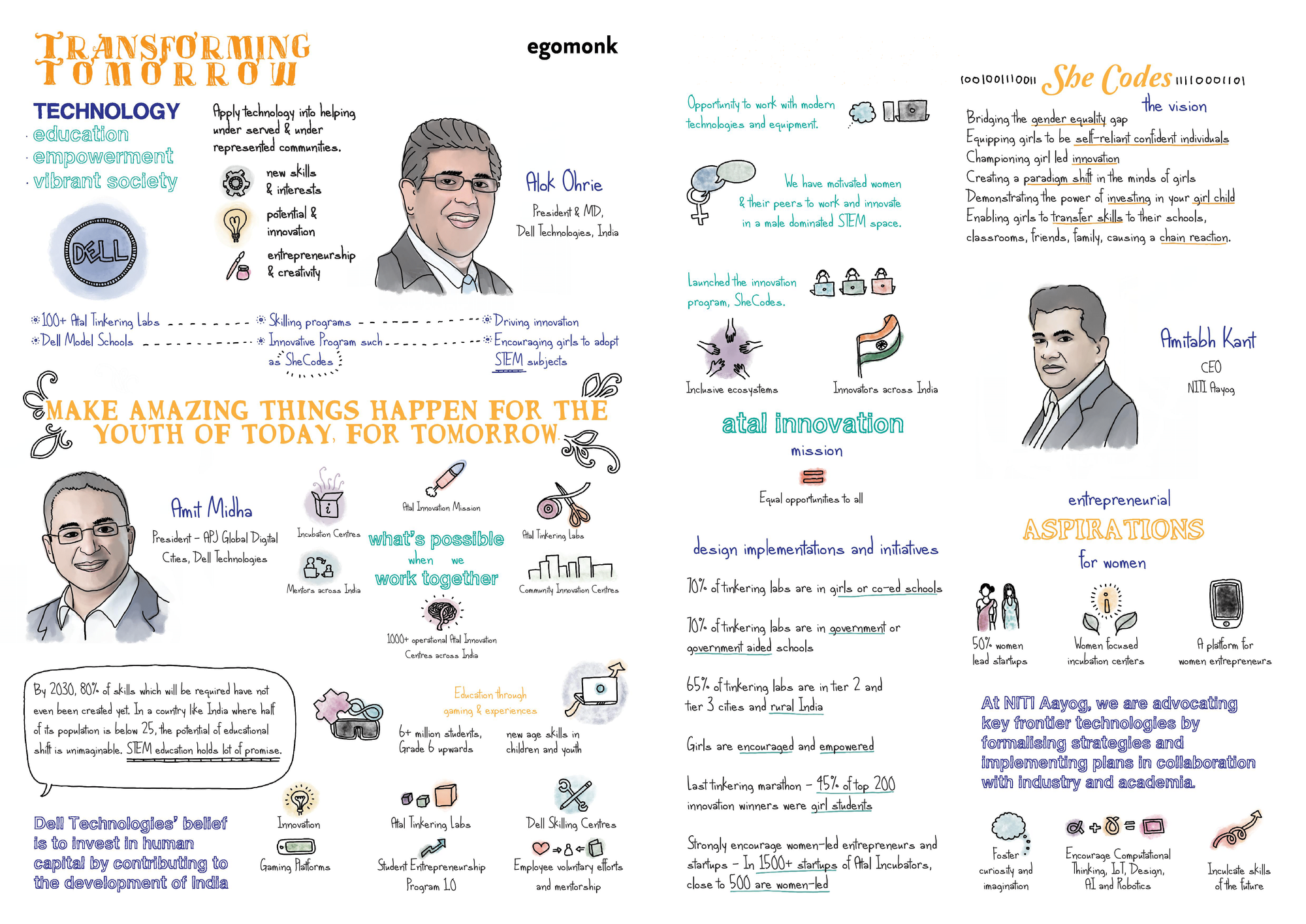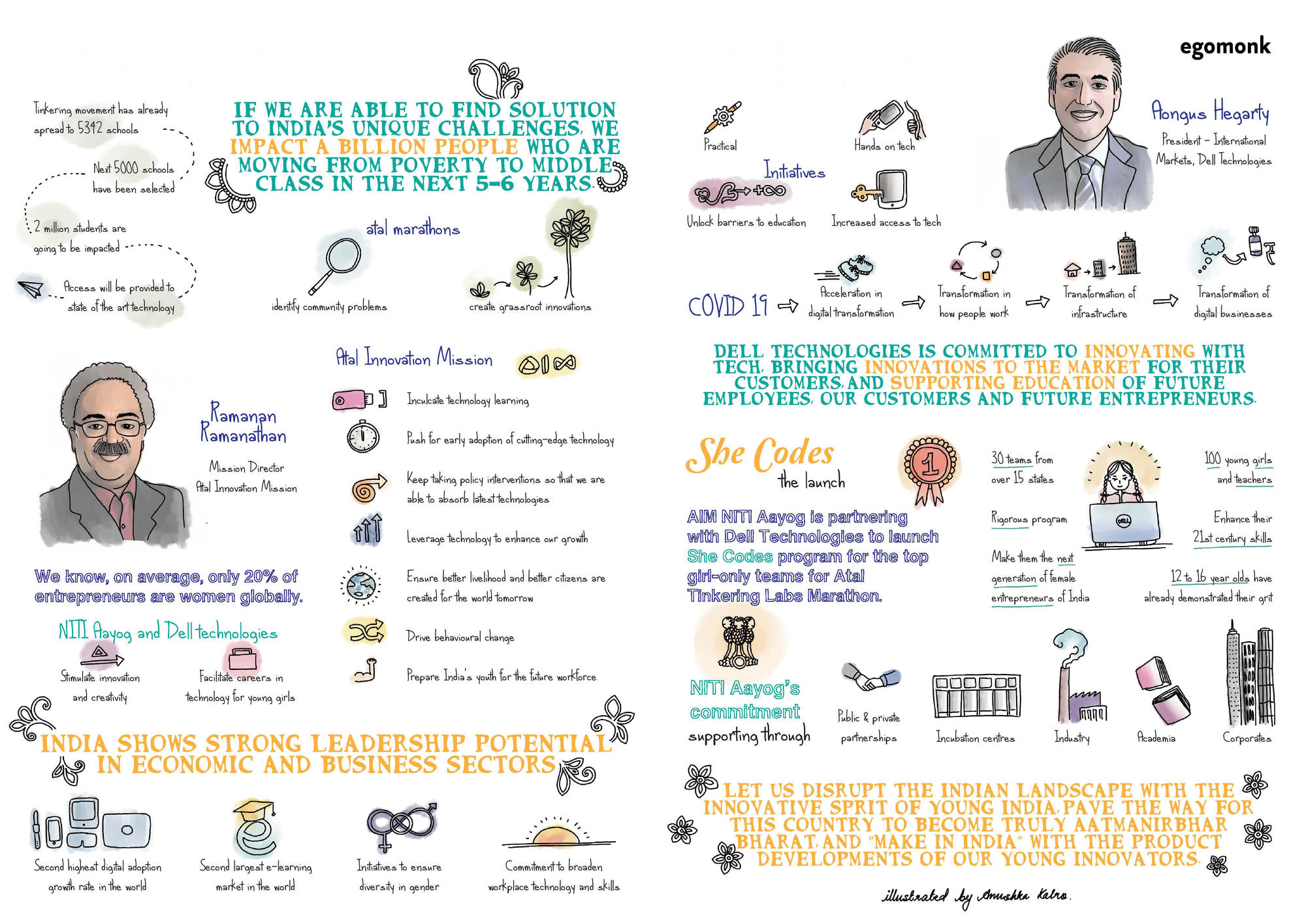 Coding for the Future
AIM and NITI Aayog are partnering with Dell Technologies to launch the SheCodes program for the top girl-only teams as part of the Atal Tinkering Labs Marathon.
The NITI Aayog CEO called the initiative a rigorous program designed to enhance the 21st-century skills of aspirant women entrepreneurs. "The aim is to take the number of women entrepreneurs to 50%," Mr. Kant said.
"We know, on average, only 20% of entrepreneurs are women globally. To hear about the statistics and programs in India is fantastic," remarked Aongus Hegarty, President of International Markets for Dell Technologies, who was also part of the discussion.
The collaboration between NITI Aayog and Dell has helped stimulate innovation and creativity, helping facilitate careers in technology for young girls.
Innovating for a Better Community
Atal Marathons and nationwide contests for ATL innovators are conducted to identify community problems and create grassroots innovations.
Calling the young innovators trailblazers, Mr. Kant said that the solutions to various grassroots challenges that India faces like water scarcity and pollution would facilitate the technologies on which tomorrow will be built.
AIM's commitment to equal opportunities to all, irrespective of gender, location and differently-abled capabilities has ensured that:
70% of tinkering labs are in girls or co-ed schools.
70% of tinkering labs are in government or government-aided schools.
65% of tinkering labs are in tier 2 and tier 3 cities and rural India.
Notably, 45% of the top 200 winners of the 2019 Atal Marathon were girl students.
Skilling for the Future
Alok Ohrie, President and Managing Director of Dell Technologies in India, believes that "technology harnessed in the right way results in education, empowerment, and a vibrant society."
"We wanted to apply technology into communities which are: under-served and under-represented. We want to help them build new skills and interests, unleash the potential of being innovative, and accelerate entrepreneurship and creativity for India," Mr. Ohrie said.
Dell's collaboration with AIM on gaming platforms has helped improve new-age skills in children and youth, reaching over a million students. Apart from launching the SheCodes innovation program, Dell Technologies has offered students the opportunity to work with modern technologies and equipment and motivated women to work and innovate in the male-dominated STEM space.
Dell's partnership with AIM continues to contribute towards the development of India through:
Innovation
Atal Tinkering Labs
Dell Skilling Centres
Gaming Platforms
Student Entrepreneurship Program 1.0
Employee voluntary efforts such as mentorship
---
We are building bridges to a better future, life, and planet. If you want to realize that potential with us then email us today!​