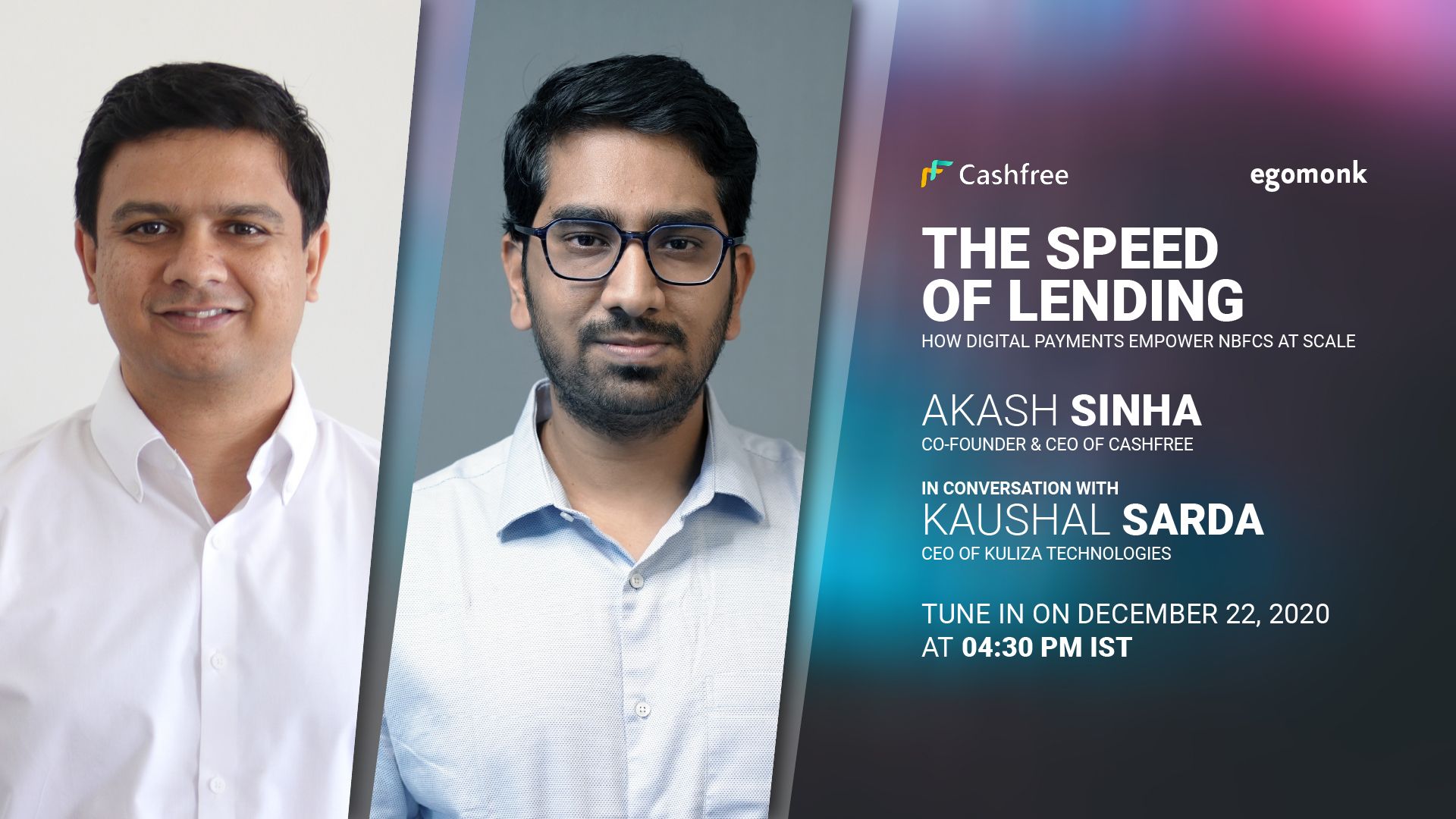 Our Agenda
This conversation will shine a spotlight on:
Instant settlements and instant gratification for customers.
Innovations in loan disbursement and its impact on customer satisfaction.
Roadmap to help NBFCs scale up recovery during the Covid-19 pandemic.
Securing the payment loop to mitigate NBFC platform misuse.
Our Speakers
In 2015, Akash Sinha co-founded Cashfree, one of India's leading payments platforms, to solve the challenges faced by businesses in bulk payments and disbursals. Prior to starting Cashfree, he worked with e-commerce giants such as Amazon and BankBazaar where he built products as a Software Engineer. With his experience as a programmer and product owner, Akash focuses on the intersection of technology and business opportunities. A community builder in the startup and
entrepreneur space, he is passionate about cutting-edge tech that can help businesses experiment, scale and innovate faster. A graduate of International Institute of Information Technology – Hyderabad (IIIT-H), Akash started his first company while still in college, and he takes that legacy forward by building cutting-edge payment products and solutions for businesses.
Kaushal Sarda joined Kuliza in 2010 as the Chief Evangelist and later took charge as the CEO of Kuliza in 2013 and since then has driven the growth strategy of the organization. Prior to this, he was heading the Bangalore office for 2020 Social, a leading social business strategy firm which was acquired by Publicis, one of the big four global advertising holding companies. Prior to 2020 Social, he founded Uhuroo a SaaS based content collaboration platform for SMEs.He has also held a consulting position with Capgemini India prior to starting Uhuroo. He is a frequent speaker on Fintech, Enterprise 2.0, SaaS, and Innovation & Entrepreneurship at various industry and academic events. Kaushal holds Bachelor of Engineering in Computer Engineering from University of Mumbai, and Masters in Information Systems from George Mason University (GMU), Fairfax, VA, USA.
The Speed of Lending will stream exclusively on our Facebook, YouTube, and Twitter channels. Please register below to be reminded.
---
We are building bridges to a better future, life, and planet. If you want to realize that potential with us then email us today!​